#50000reasons to make a difference to a lonely older person this Christmas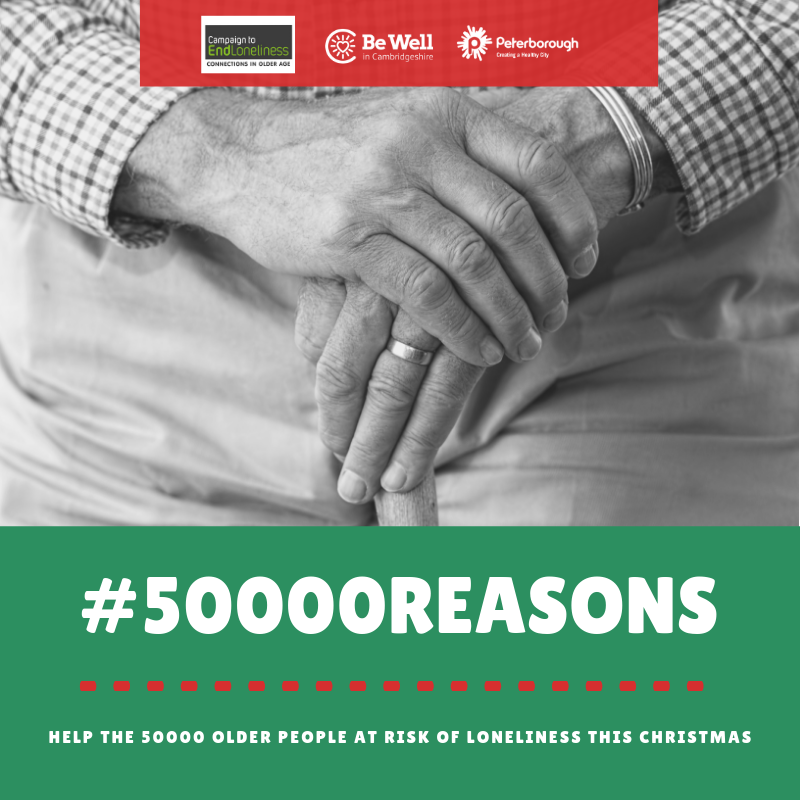 The #50000reasons campaign is encouraging people across Cambridgeshire and Peterborough to help the 50000 older people at risk from loneliness. Christmas can be a difficult time when older people reflect on what they have lost from their life making feelings of loneliness worse.
These 12 simple gestures could make a big difference to a lonely older person's life this Christmas.
Start with a "Hello" or a "Good morning"
Or a simple wave as your drive or walk by. It's a great way to start.
Start a conversation with your neighbour – small talk can make a big difference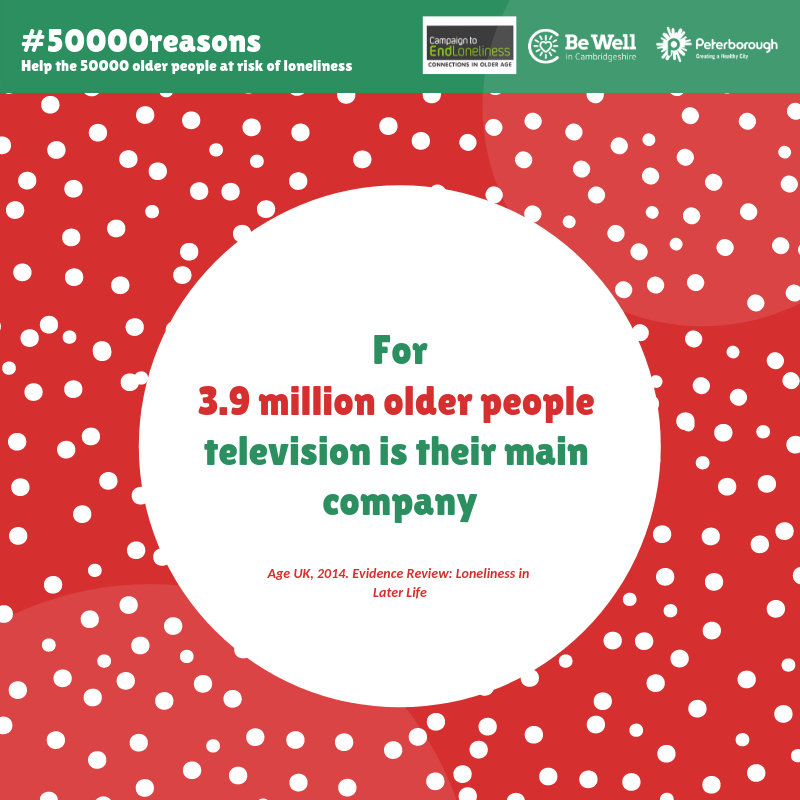 If you've never really spoken with your neighbours the festive season can provide the ideal opportunity to do so. Starting a conversation shouldn't be scary. Everyone has a story and something interesting to say, so try and be open to having a chat. Make eye contact. Smile. Talk about the street,how long they've lived in their house, the neighbours,  the weather…. or all four. For some people who are isolated, this might be the only conversation they've had in weeks.
Send a Christmas card
This Christmas why not make an extra effort and send a Christmas card to an older person living on your street? Be sure to write clearly and it would be extra-special if you make an offer to help or give assistance should then need it – write your phone number in the card. Even if the gesture is not taken up, it's reassuring for somebody who may be experiencing loneliness to know that there is someone there if they are needed. When you drop the card off, you have an opportunity to start a conversation. Mention the offer that's in the card. And try to build upon this.
'Mince pie moments'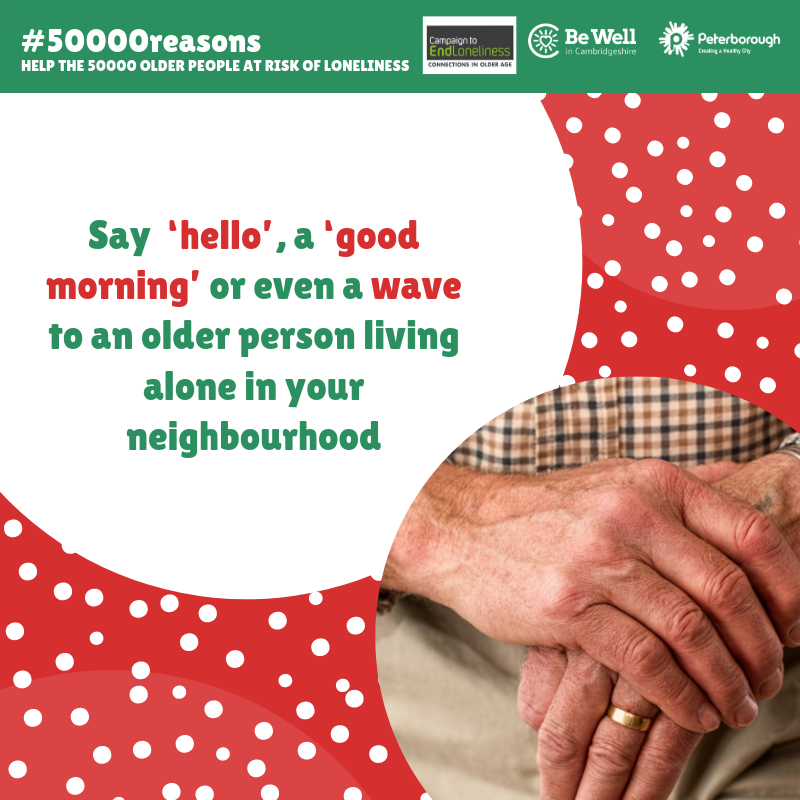 This Christmas why not join with a couple of neighbours and share a 'mince pie moment' together? Host a small, informal gathering on a Saturday or Sunday morning and invite your older neighbours to come along? You could put the invitation in their Christmas card…
Should they decide not to attend, call by with a mince pie and tell them they were missed.
Offer to help write someone's Christmas cards and deliver them
Help older people who are housebound or living alone by offering to write and deliver their Christmas cards to loved ones and friends.
Making a connection with older neighbours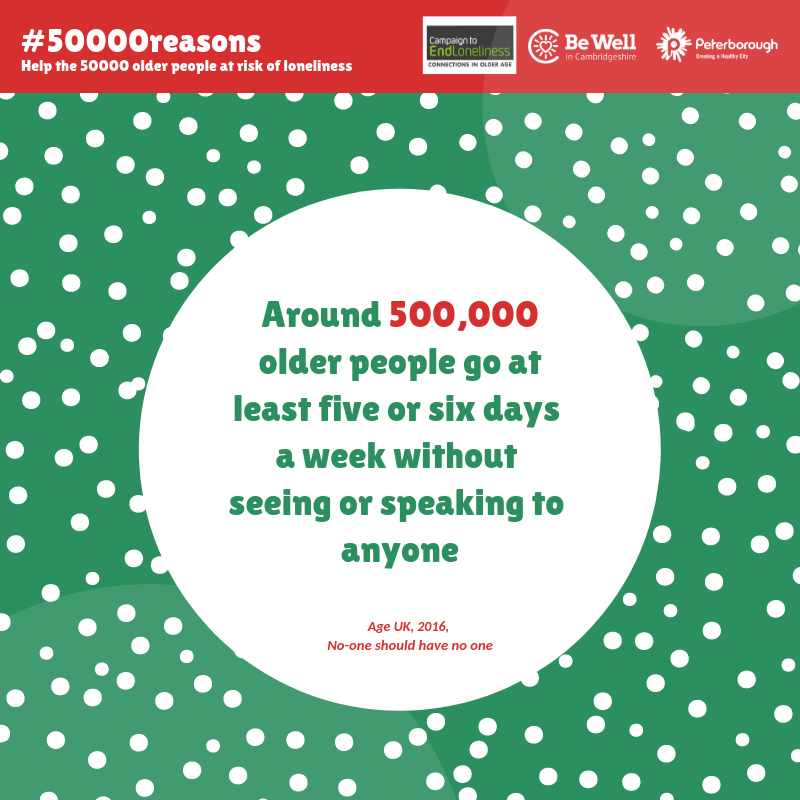 Understandably, there can be many barriers to older people opening their doors to strangers. A good way to reassure them is to get another neighbour to introduce you.
Alternatively, drop a note through their door introducing yourself and telling them you will be calling just to say "Hello" at a given date/time (always in daylight). Going along with your children or pets can also be reassuring.
One step at a time
If you call on a neighbour, make your first call short. Give them the opportunity to see who you are, that you are genuine and show interest in them.
Check on an older person living alone if the weather becomes cold or wintry
If the weather becomes cold, please check on neighbours to see that they are keeping warm and well. Read our tips about how to stay well this winter. (https://www.cambridgeshire.gov.uk/be-well/resources-and-campaigns/stay-well-this-winter/)
Phone a friend, or go and visit…
Take 10 minutes each week to phone a friend or family member you haven't spoken to in a while. Better still, go and visit them or arrange to meet up for a pint, a coffee or a cup of tea.
Write a letter
How many people are there in your life who've made a massive difference to you? It could be a teacher, a parent or an old friend, but it's rare that we get a chance to say thank you. In the hustle and bustle of the modern world writing a letter might seem a bit old fashioned. But whoever is on the receiving end will appreciate the time and extra effort you've taken.
Encourage the kids
To say "Hello" or at least wave when they see an older neighbour. For many of us, our friends tend to be a similar age to us. But that means we're missing out on perspectives and stories that might change our life. Whether you're eight or 86 we all have things in common, and we can all learn and gain from each other. Children often find it easier to start a conversation.
Offer to clear someone's leaves or snow
This can help older folk to get out and about to do shopping, see friends and family or go to community activities.
Further information
For more information on loneliness and how you help go to www.cambridgeshire.gov.uk/50000-reasons