Welcome everyone. I am so glad it has been my time to blog this time of year. It is one of my favourite times of the year. It is Halloween this week and many people feel differently about Halloween but for me it is a very special time of year.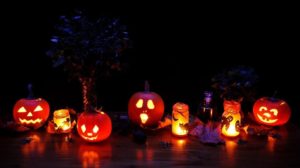 Halloween is in our diary because it is a very old, ancient Celtic festival, dating back over 2,000 years, and is originally called Samhain. Samhain celebrated the end of the harvest, the dying back of plants, trees and nature, it was an ending, and with endings there can only be new beginnings. With that it was the start of their New Year. Light fading to darkness, growth slowing down to stillness, leaves falling from the trees. The ancient Celts believed at this time of year, the barrier between the world of the living and the dead became thinner. Bonfires were lit and celebrations held to connect and remember those who had gone before them as respected allies and counsellors. A time to share their wisdom and knowledge.
It is this which I like to celebrate. With the evenings drawing in, it is natural to have periods of introspection. I clear the garden and my allotment, so it is ready for spring and I also like to take the time to do that for me. I like to take this time of year to contemplate all that has been, and let things go. To give myself time to think about and remember those who are no longer with me. Surrender to the cold and darkness, find warmth and comfort in the home but to look forward to lighter times. It is a time to ground myself and breath, find stillness. To give contemplation to a blank page on which the coming year can be written.
It has been a difficult year. A year of unknowns, changes and uncertainty. But amongst all the chaos that has been, we can take time to reflect on what we can be grateful for and what we can achieve during these times, no matter how small they are. So if you are not a fan of all that Halloween has become, maybe there is still something for you to celebrate this time of year and if you love all the costumes and celebrations maybe you can also take time to stop and feel the stillness this time of year brings.
Reflecting on the last month of work here at the SUN Network; This month we successfully had 13 individuals attend an online workshop to discuss experiences and reflect upon suicide prevention. This will hopefully be an ongoing piece of work. If you feel you would like to be part of then please get in touch.
The SUN Network team welcomed Kim Laidler and David Lee as directors to the SUN Network. It is always great to know that our team and work are continuously expanding and moving forward. Kim and David have a wealth of knowledge and experience to bring to the SUN Network and we are looking forward to working with them.
I met with a Social Prescriber to help better understand their role in supporting those with mental health challenges and how we can better connect with them. A social prescriber is someone who works from your GP surgery. With a coaching approach, they can help you access support, activities, groups and projects in your local community, which could benefit your mental health. If you feel you need time figure out what you need, what matters to you, or you are on a waiting list for support from mental health services, the Social Prescriber might be someone you want to see. You can ask your GP about referring you.
If you can, remember to take some time for you. Mindfulness practice can be an effective way to help achieve this. For more information about mindfulness please click on the link https://www.nhs.uk/conditions/stress-anxiety-depression/mindfulness/
Good luck and happy Samhain.