Hello everyone. It has been a while since I have written and I have missed sharing what I have been up to with everyone. Everyone's focus at the moment is on covid-19 and that is understandable as it has caused such disruption and has affected every single persons' life in the UK and millions around the world. It has affected our lives in unimaginable ways, causing fear, anxiety, uncertainty, loneliness, isolation and sadness but I have also seen it bring joy, strengthen communities and expand peoples' creativity. People have stepped up to offer their skills to care and make supplies for those that need them. It truly is an extraordinary time and I am sure there are many more things you can think of.
There are many things I have enjoyed during this time. I have loved spending more time with my beautiful 2 year old boy. I've enjoyed not having to rush out the door with him in the morning to get him to nursery and me to work and on our return, coming home late and rushing through all things that need to get done before bedtime. I have liked not feeling the mental stresses of our routines and life. Life for me feels like it has slowed down, calmed, relaxed and I like that and so does my son. But that does not mean life doesn't carry on and that life doesn't affect me.
Three weeks ago was the 1st anniversary of the passing of my brother. A difficult time anyway, felt so much harder by not being able to connect with my family and come together to acknowledge and mark the significance of the event. My son also misses his grandparents and having to constantly explain in the simplest way why he can't see them is incredibly difficult. It is a struggle to constantly find things to entertain him when his attention span is a max of 10 minutes. That amounts to a lot of 10 minute activities. I'm sure we can all find things that swing us from joy, to the challenging feelings we feel around the situation we find ourselves in. I wanted to share that I understand we still have to deal with life and how we feel, despite Covid-19.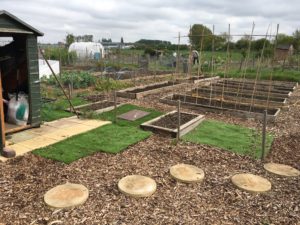 I am very lucky; I have a garden and an allotment that requires lots of attention. Having these two spaces has enabled me to plough my energy into something and given me spaces that are just for me. The true healing powers of gardening and being outside has been incredibly positive for me.
What helps you? We would love to hear from you and put it on our social media pages to share with others. You can email me at anne.wigglesworth@sunnetwork.org.uk with a couple of sentences about what you are doing to stay well. You can choose to stay anonymous if you wish, just let me know. If you want to, you can even include a picture of what it is that helps.
If you feel you need help, want to talk to someone or need some support please visit Keep Your Head for the latest support during Covid-19.
Keep in touch with people, lets stay connected.