Hello Everyone.
Well, it has been an incredibly busy month for me here at the SUN Network. Firstly I participated in some training on offering emotional Support over the phone or by email. Delivered by Rape Crisis, it was an excellent course covering listening skills, empathy, counselling skills, empowerment, email communication and self care. A lot was covered in a short amount of time. I love training. It keeps me up to date, stops me getting set in my ways and it always inspires me to think creatively about how I can improve my work.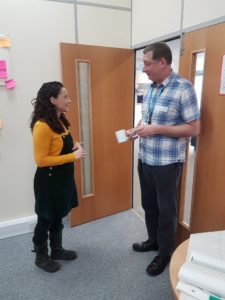 We very sadly said our good bye to Andrew at Lifecraft, with tea, biscuits and some relaxing live music. After 10 years as Manager at LifeCraft, Andrew had decided it was time for him to leave. Here at the Sun Network we wish him all the best and maybe our paths will cross again.
Cambridge County Council are retendering the Carers' Mental Health support in Cambridgeshire. I have been busy finding carers and sharing what their role and responsibility are to help evaluate the carers question in the application.
I was invited to speak at the Greater Peterborough Patient Participation Group. This is a forum of different patient representatives from GP surgeries across Peterborough.
And Finally I was involved in the very innovative and exciting Hack Week that was organised by members of the Senior Leadership Group (a meeting group made up of service providers, commissioners and the SUN Network) to bring together Service Users, Staff, managers and commissioners to spend a week, "Hacking" out ideas to connect some mental health services together, better. It was a week full of different tasks to help draw out creative thinking about how to do things completely differently. It was a fabulous example of Co-Production where everyone's ideas and contributions were valued and equal. A truly empowering and meaningful event.
My next blog is not due until the New Year. So I wish you all a peaceful and relaxing holiday period.
Anne 🙂