Cambridge Community Arts are pleased to present the first Short Courses of 2019/20:
(More Short Courses to follow soon):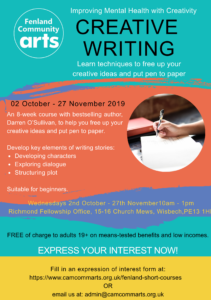 Creative Writing (Fenland)
This 8-week course, with bestselling author, Darren O'Sullivan, will help you to free up your creative ideas and put pen to paper. It is suitable for beginners and will take place from the 2nd October in Wisbech on Wednesdays 10am-1pm. Over 19s only.  (See attached flyer for more details).
Selling Your Work (Cambridge)
Cambridge Community Art's new eight week 'Sell Your Work' course – September 23rd to 18th November. For artists, photographers and crafters wanting to learn how to sell their art work. Free for those on means tested benefits or low wage. Over 19s only. (You can download the flyer here for more details)
How to apply: 
To find out more details and to apply go to their website: www.camcommarts.org.uk/join-a-course – alternatively a digital copy of their Expression of Interest form here, which can be filled out and sent to them at: admin@camcommarts.org.uk OR Cambridge Community Arts, 16-18 Arbury Court, Cambridge CB4 2JQ. They are now open to applications, spaces are limited.
Creative opportunities – Volunteers needed!
They are looking for creative & friendly volunteers, with the confidence to support others, to help on some of their creative courses.
For more information and specific roles go to their website: www.camcommarts.org.uk/opportunities
To apply email them at: beth@camcommarts.org.uk or phone: 01223 631820