Hello everyone, how have you been?
I don't know about you, but I am feeling brighter in my mind since the sun has started shining. Even though I am not great with the heat, I still enjoy the beautiful sky. Typically, since I started writing this blog the weather has changed again but hey! It's England.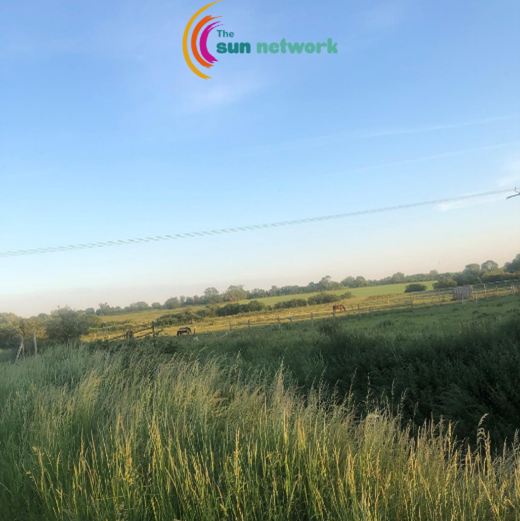 We have all been so busy at The SUN Network, so let me catch you up on a few things that I have been doing.
The eating disorder information leaflets have been published and can be viewed online here. I have thoroughly enjoyed creating these leaflets with the amazing carers and wonderful individuals with lived experience who have been involved throughout. We have created a poster for these leaflets that will be getting printed and shared left, right, and centre so if you come across one, please share it, tag us in your pictures on social media and message us if you would like any information sent to you. NHS England have seen our leaflets and shared them nationally as a best practice guide. Meaning they are sharing with other NHS groups throughout the country so they could follow our example for any work they are creating and using our leaflet as a guide. This is huge!! Having NHS England recognise our work and see the power that co-produced information has not only for individuals with lived experience and carers that are involved, but also on the services and individuals who may be struggling. I am honoured to have worked with such kind people who felt able to share their experiences with myself and Vickie in the hopes that it helps other people. As you may already know, I have experienced an eating disorder myself so hearing from others who have experienced similar was empowering. It is wonderful that something so potentially devastating such as an eating disorder can bring people together, making the most out of a difficult circumstance.
I was a guest on BBC Radio Cambridge this week as well. I was invited to share about the work we have doing around eating disorder leaflets and the process of co-production. I think this was such a good platform to share information about eating disorders to help challenge the stigma and stereotypes of this illness, and who knows who this could help.
I am so grateful to be in the job I have as I feel like I am making a meaningful impact for others potentially struggling. You can listen to my interview here Skip to 29minutes to catch me. This will be available until the 14th of July 2021.
For Post-Traumatic Stress Disorder (PTSD) Awareness month we shared a social media post that got a few comments on it. I contacted these people and arranged to meet them (following a negative covid test) so that we could work with them and their lived experience to raise awareness and challenge the stigma on PTSD. It was great being able to meet up face to face after so long of doing everything virtually and enjoy the outside while we work. Hearing the passion these people had for raising awareness on all mental health challenges not just PTSD, and wanting to challenge the stigma was so motivating. Anyone could experience hardships and it is important to never judge a book by its cover. I am excited to see what comes from these meetings and will keep you posted.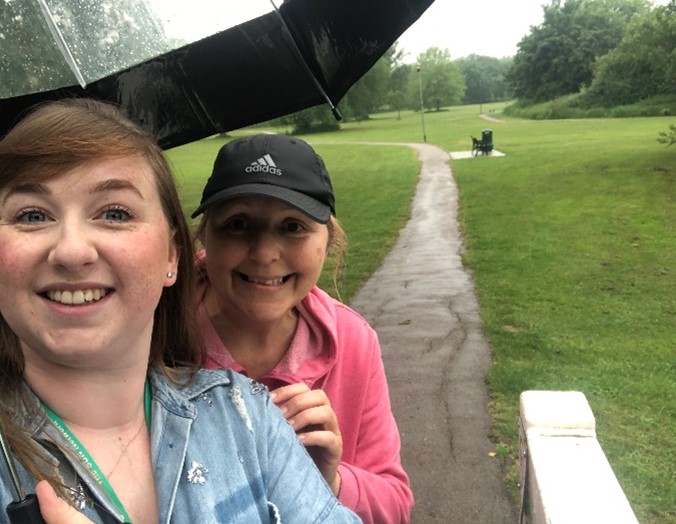 Here is a picture of Szara and me while we were on a walk discussing how we could raise awareness on PTSD and other related challenges. Shortly after, I met Paul at the Edge Café to discuss more ideas.
I was able to have a weekend away recently with my cousin which was just the break I needed. To catch up with my cousin, laugh like no one was watching and relax as though we had all the time in the world was so refreshing. While the pandemic has been challenging, I feel like I am appreciating the time I now am able to spend with loved ones more than before, having gone a short while without it. This picture was of our fire that we toasted marshmallows over. I found it mesmerising watching the logs burn, and listening to the cracking of the fire was actually quite peaceful.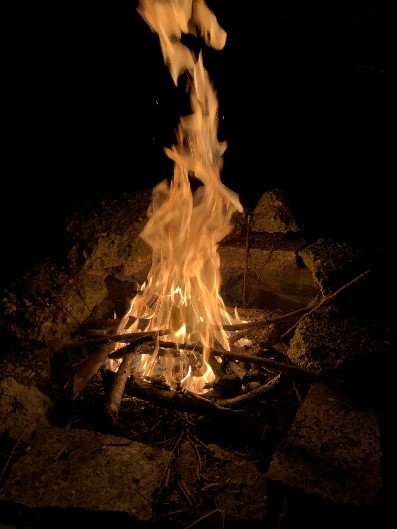 I've said it before, but I am so good at preaching to other people to stop and take some time to be mindful and look after yourself and then find myself rushing around at 1000 miles an hour being constantly busy. I think I do this out of a fear that I might discover something that could cause me upset or pain so am constantly on the move. The irony of doing this is that if I don't stop and check in with myself, I'll inevitably end up as a burned-out pile of logs – metaphorically speaking, which can be more upsetting and painful then if I just spent a few minutes a day asking myself how I am feeling. Something for me to work on.
If your compassion does not include yourself, it is incomplete – Jack Kornfield
Thank you all for reading.
Try to remember to be kind to yourself and take each moment as it comes.
All the best,