Hello,
How are you?
I feel like I always start of my blogs talking about the weather, how British of me. Let me just jump straight into catching you up with what I've been doing in the month since my last blog.
I was invited to an online webinar for primary care professionals, for example General Practitioners (GP's) and Primary Care Networks PCNs, (groups of GP surgeries) to speak about our eating disorder resources. It was great to be able to speak with so many health professionals across the county in one place and to inform them of the information that is available not only for them but for their patients too. We will continue to do work on the eating disorder resources to ensure they are up to date and relevant, while also creating new pieces of work and awareness around eating disorder which is exciting.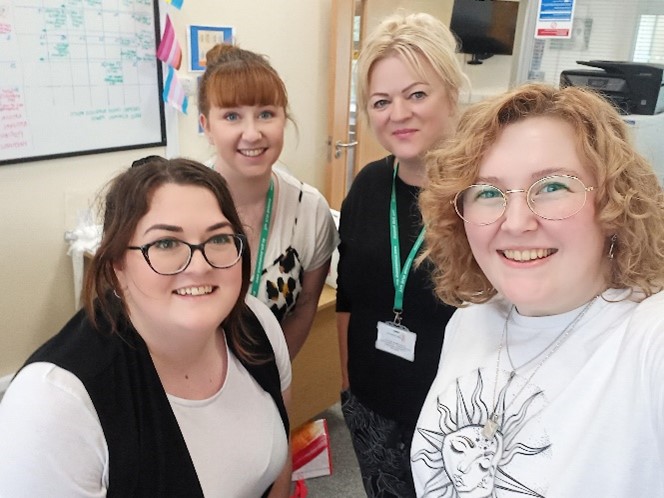 We had our Annual General Meeting (AGM – where we share our work and accounting details) this past month. It went well if I do say so myself – I might be slightly bias. It was brilliant to have a reminder of the great work that we have done this year. A few highlights mentioned were the eating disorder work, the addiction recovery stories, the PTSD awareness work we shared and much more. It was a hybrid AGM, we had people join us online and face to face. This was so wonderful as it allowed those that had busy schedules, travel challenges, and other commitments to be able to join as well as those in person who stayed to enjoy a catch up and some cake. I love my job so celebrating it with so many other people who are a part of what we do was so amazing.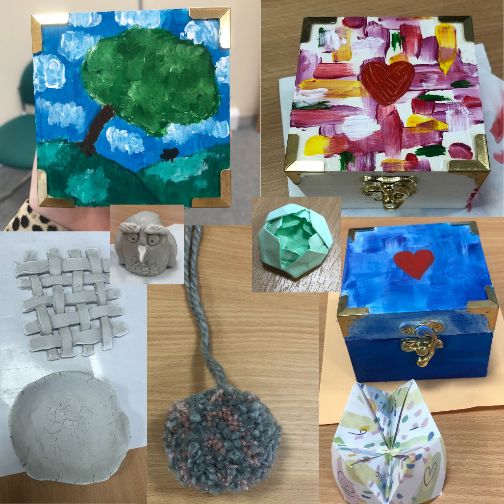 Vickie and I held a celebration/thank you event for the wonderful individuals that we have worked with on the eating disorder resources project. After 7 months of working together virtually, it was a time we could finally meet each other face to face as well as online. There were 4 groups in total throughout this work, 2 groups with individuals that have experienced eating disorders, and 2 groups with carers of loved ones that have experienced eating disorders so it was great to provide a space where we could all meet and share experiences. This picture is of the crafts that were made at the event, I think they're brilliant.
We said goodbye to the lovely Trisha from Hunts Forum and The Maple Centre who is retiring. Trisha has always been a wonderful presence in our offices, and she will be missed greatly. We took Trisha out to lunch to share our appreciation for her and all that she has done for us while we have been at the Maple Centre. It was lovely to have a chance to relax and share our fondest memories with her before she retires. Hunts Forum held a retirement party for Trisha which Vickie and I went along to. I loved seeing all the people coming together to wish Trisha well and for Trisha to see all the people she has worked with and inspired in one way or another since being with the Hunts Forum. I wish her well on all future endeavours. Trisha is considered a friend to me now so while it is goodbye to her from the Maple Centre, it isn't goodbye from me completely.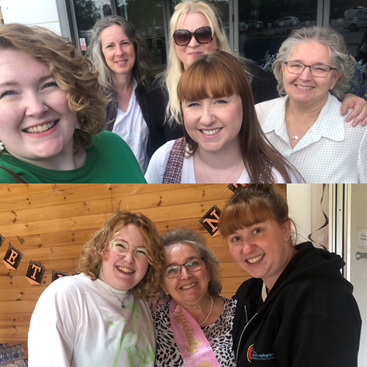 I have confirmed my space on the second year of my university course, and I am due to start back in October which is exciting. I am hoping that this year offers more than last year, so I can use what I learn at uni in my job. I am happy with my first-year results, I could sit here and pick myself apart or be overly self-critical, but it isn't going to get me anywhere and will just leave me feeling rubbish. I did all I could do and for that I am proud. All I can do now is continue to work hard and be passionate about all that I do.
There is a quote I came across this past month and want to share it with you all. 'You are not required to set yourself on fire to keep other people warm' – the message – you don't need to please others at the expense of your own well-being. Look after yourself first.
Until next time, stay safe and best wishes.
Thank you