Hello and a warm welcome to you.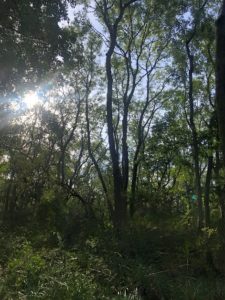 I do love this time of year I must say. I really enjoy looking at the different colours that nature gives us and the changes that are underway as each day passes. Feeling the fresher cold air on my face whenever I do venture out, (which is rare at the moment) is refreshing for me. I'm exploring the joy I find in taking pictures of nature, which has been a recent find for myself. I am trusting that there is a reason behind it and allowing myself to explore it as and when I want to. Here is a picture I took on a recent walk through Monks Wood.
Recently I have been contacting individuals who have experienced the Primary Care Mental Health service (PCMHs) and hearing their feedback on their experiences. It is interesting to hear how Covid-19 has impacted the expectations individuals have for their support and care, and hearing the differences in experiences individuals are having now compared to previous months and pre-Covid. If you have experienced the Primary Care Mental Health service and want to share your anonymous feedback, you can contact me directly via email charlotte.lawrence@sunnetwork.org.uk or text/call/WhatsApp on 07907 472 024 or you can share your anonymous feedback on a survey we have created via this link.
We are working with the PCMHs managers to help create a way in which the feedback we collect and share with them can be used. The PCMH team can then let us know what they are doing in response to your feedback, which we can then share with you as your voice and experience really does make a difference.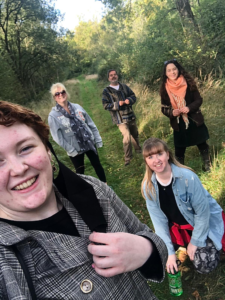 As a team we have been keeping in touch with each other, virtually and social distanced, when possible. This not only helps us check in with the work streams we are all doing but also to look after our wellbeing and mental health. Remote working can be hard when you are used to working in a team and seeing people, and I for one, have definitely found this challenging. It's great when we do meet. We recently went on a walk together in Monks Wood where we were able to hear the exciting things everyone is doing and get involved in helping each other wherever possible. Its fair to say we all love the work we do and are all passionate about it.
I am week 3 into my 3-year university course, I am sure at some point I'll stop counting the weeks, but so far so good. I am really enjoying learning more about the social care and community industry and using the skills I have picked up and learnt since working here at The SUN Network to help me in my studies has been really helpful. I am a keen learner and want to continually push myself, in all aspects of my life, to learn new things and share this 'wisdom' with other people that it may benefit. I'm looking forward to getting stuck into discussions and seeing where this degree may take me. Watch this space 😊
Now that my life seems to have picked up a pace, I think it's important to take a step back every so often just so I don't get swept up in it all. What with University work, my role at The SUN Network, and having a life, balancing all of this and my wellbeing can be difficult. I've started to go to the gym a few times a week which is helping me to release some endorphins and have some me time. Going to the gym also helps me step away from my work/study place which I spend most of my time in now that we're working from home. I am going to try and do a few more self-care things, like going for walks, having a reflective journal, go to bed early etc and see how this affects my overall wellbeing. What are the things you do, to look after your wellbeing and allow you to 'download' and take a step back?
'Almost everything will work again if you unplug it for a few minutes, including you'
Stay well everyone.
All the best,