Hello everyone,
Here at The SUN Network, we are well into the festivities, we have spent time together outside of work to enjoy our Christmas meal and exchange Secret Santa presents. Although these turned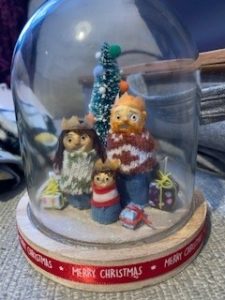 out to not be so secret when opening them, we know each other very well! You will probably have seen on our social media that we are sharing our Christmas posts which include helplines, tips on wellbeing and few other bits coming out over the next couple of weeks.
Christmas can be an overwhelming time for some people, whether this be because of mental health, change in routine, loneliness, or anxiety (to name only a few reasons), and it may be hard for them to take part in the festivities. So, with this in mind please remember Christmas can be whatever you want it to be, I know that in my house Christmas looks quite different to some of my friends and family.
Being a parent carer at any time of the year can show some challenges, but especially around birthdays and Christmas time when there is over excitement, sugar rushes, sensory overload, and changes in routine. I wanted to share with you all that it is ok to grieve for the Christmas you envisaged and did not get, we all have fantasised about a 'perfect' Christmas and reality can hit you hard when you know that isn't attainable. But, alongside the things that you may not get to do with your child, or for yourself, there are some magical moments waiting to be had. This year, my son has truly become invested in Christmas, he is wanting to engage with decorating the Christmas tree and understanding Father Christmas and the magic that he brings. For us as a family this feels like Christmas magic, and each leap he takes whilst developing often brings a tear to my eye. But alongside this, we are also experiencing severe sensory overload, meltdowns, confusion, and anxiety- this is because things are different and different isn't always good in the Davis household.
So, this Christmas I can guarantee that chicken nuggets will be served at the Christmas dinner table, carol singing is a no-go, presents may be ignored and bedtime will be the same as if it were any other day. However, I can also guarantee that this Christmas will be filled with love, appreciation and time spent with loved ones who understand 'us' and support all our needs this Christmas time. I want to sign off this blog post to encourage you all to celebrate Christmas how it fits into your life, and not feel like you need to bow down to the pressures you may see in social media or hear from friends or family. Give yourself the gift of happiness this Christmas, put your needs first.
Merry Christmas,