Our local health commissioners – Cambridgeshire and Peterborough Clinical Commissioning Group need to look at how to reduce what they spend without hurting the services people value the most.
There are two meetings in St Ives and we will pay people £50 per meeting to go along, plus travel expenses.  
We are particularly keen to encourage applications from young people, men and people from minority ethnic communities as they are currently under represented in our applicants.
Please let me know if you need any more information.
More people are using NHS services. But money is limited.
Join a brand new Community Values Panel and have a say on funding local health services.  You will be paid £50 per meeting plus reasonable travel expenses.
You must be aged 18 + and live in Cambridgeshire or Peterborough. You must be able to attend two meetings in St Ives from 10am to 2pm on
Thursday 24 October 2019
Tuesday 19 November 2019
A Community Values Panel is being set up by the people who plan and buy health services in our region – Cambridgeshire and Peterborough Clinical Commissioning Group (CCG).
It's a way of looking at some of the complex problems our local CCG is facing when it is making decisions about funding local services.
The CCG's £1.3 billion pays for things such as doctors, hospitals, community services, some pharmacy services and mental health services. But the CCG is operating with £75m debt and needs to make some tough decisions about what health services to buy for the region's 980,000 people. They must save money this year and spend less in the future.
Together we want to hear what's important to local people and to gather ideas and views on how to save money whilst protecting the services people value the most.
Healthwatch Cambridgeshire and Peterborough, the local independent champion for people who use health and care services, is helping to run the panel.
We will make sure that anyone with a disability has the support they need to take part – please tell us what you need when you fill in the application form.
Apply by noon on Tuesday 15 October 2019.
You can apply online at:
http://www.healthwatchcambridgeshire.co.uk/community-values
Call 0330 355 1285 or text 0752 0635 176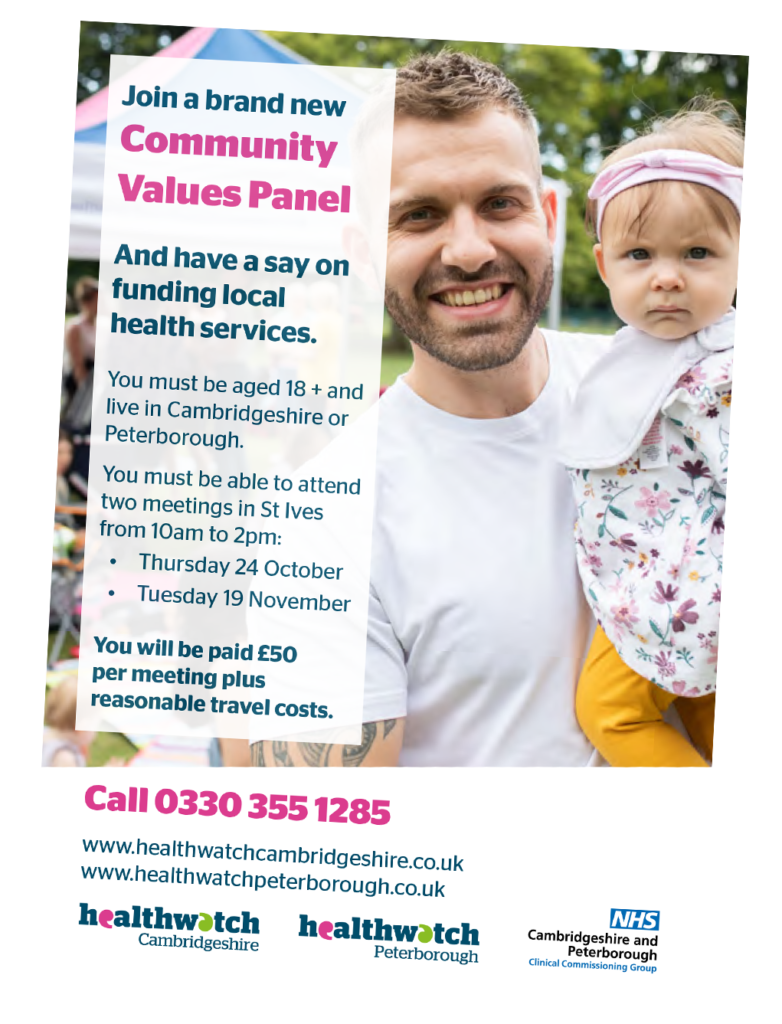 You can download the flyer here and the Community newsletter article here.