Everyone at CPFT can make a huge contribution to improve care and treatment with two mental health studies we are currently running.
Please consider taking part and share details of these studies with people you care for, who may be eligible, as well as friends and relatives who could also join.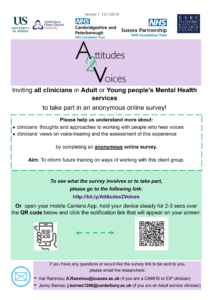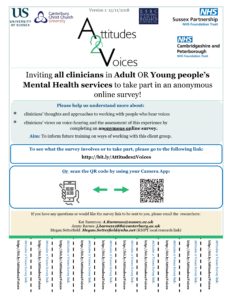 Take a survey to help people hearing voices – by Monday 30 September
Health professionals working in Child and Adolescent Mental Health Services (CAMHS), Early Intervention in Psychosis (EiP) services and Adult Mental Health services at CPFT are invited to share views on working with people who hear voices (that other people don't hear). This study will close at the end of the month.
The survey is completely anonymous. You will not be asked to supply any contact information. It takes around 30 minutes to complete mainly multiple choice questions.
If you have any further questions about the study, please contact Clinical Research Nurse Rachel Michel. Share and display the study posters in your service and team areas.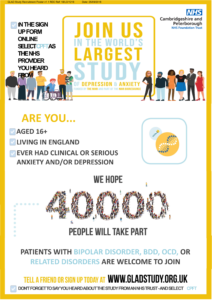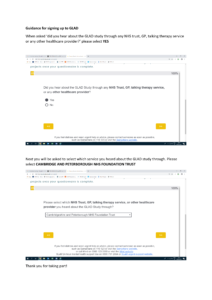 Join the largest ever study of the Genetic Links to Anxiety and Depression (GLAD)
Anyone aged 16+ who has experienced serious/clinical anxiety or depression (sought help or treatment from a health professional at any point, or after a major life event), can take part in this national study, which involves reading an information sheet, providing consent, completing a questionnaire (online) and providing a saliva sample, which can all be done at home.
40,000 people are needed for this study. At CPFT, we have thousands of potential volunteers who could join to make a huge impact.
When you sign up or explain the study – please make sure people select 'Cambridgeshire and Peterborough NHS Foundation Trust' in the form as the referring NHS Trust – share the guidance attached on how to do this, and display the GLAD study poster in your service and team areas.
If you have any questions about the GLAD study contact Clinical Research Nurse Heidi Rice in Cambridge or Clinical Research Practitioner Marian Shiyanbade in Peterborough.
Details of other research opportunities can also be found in Latest News on the CPFT intranet, there's a study for everyone – please take a look and share the details.
Many thanks in advance for your time and support for research at CPFT.