The Commissioning team are reviewing the direct payment support service and are keen for feedback. As part of this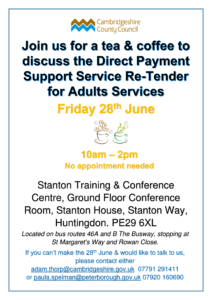 they have arranged a workshop specifically for users of the service and would like our help in identifying individuals and inviting them to this event. It is always a huge benefit to have the opportunity to gain feedback from the people who have actually experienced using the service – and those that were interested in DP's but decided not to take forward (what stopped them)?
They are looking to engage with individuals who are currently in receipt of Direct Payments from Cambridgeshire County Council and are happy to talk to them about not only what has been good and works for them, but also what problems they may have, or still face in securing the required services.
They are also looking to engage with those who have recently used Direct Payments but have stopped doing so due to problems with the service.  This is not to provide a 'blame' platform but for us to understand the barriers and to look at ways of overcoming them with any new provisions.
The best way they can achieve person focused outcomes and to enable service users choice is by talking to the people who use these services and it is for this reason that they wish to engage with service users and/or their carers directly to hear your views and shape future provisions.
They have therefore arranged 2 separate events, 1 for adult service users and/or their carers and 1 for children and their carers.  They have secured 28th June 10am – 2pm for these sessions at Stanton House in Huntingdon and the day will be split into 2 for this reason.  Appointments can also be pre-booked to meet with them.  They envisage the day will be very informal and relaxed.
Until they know the kind of numbers they are looking at they are unsure exactly how the day will look so will be able to give a better idea in due course.  They are more than happy for individuals to just pop in & give their opinions if this is preferred – they are happy to be led by your preference.
If you are interested in being involved, or would like further information please contact either Adam Thorp 'adam.thorp@cambridgeshire.gov.uk', Tel: 07791 291411 or Paula Spelman 'paula.spelman@peterborough.gov.uk', Tel: 01733 452434.
Healthwatch asked for some information about accessibility and were told the following:
Stanton House is very accessible to people with physical disabilities with the use of ramps and automatic doors for easy access.
The suite booked for the event is on the ground floor and disabled toilets are also easily accessible.
There are 2 bus stops either side of Stanton Way (St Margaret's Way and Rowan Close) the 46A and B The Busway – to walk to Stanton House both are a slow 10 minute walk away.
Unfortunately we do not have hearing loops or other communication support needs.
If it would be easier for you, or you can't make the 28th June, then either Paula or Adam would be willing to meet with you elsewhere or by phone.
Once again their contact details are:
Adam Thorp 'adam.thorp@cambridgeshire.gov.uk', Tel: 07791 291411
Paula Spelman 'paula.spelman@peterborough.gov.uk', Tel: 01733 452434.