Hello Everyone.
I simply cannot believe it is May already! If like me, you love Spring and Summer then you'll be as happy as I was to see such fantastic weather in April. I have the time at present, working from home, to really pay attention to nature and what is happening in my garden I have a little apple tree in my garden which has blossomed and looks beautiful. It's called a Red Devil apple tree and the apples are really deep red and very sweet. I also have a wisteria that I coveted for many years, and it is 5 years old this year. After a very slow start and not flowering for the first 3 years and only 4 flowers last year, this year looks extremely promising with dozens of white flowers ready to bloom. My favourite though is my climbing rose. It's is a beautiful rich yellow and smells amazing. It usually flowers in May, however, it started in April this year due to the unseasonably good weather.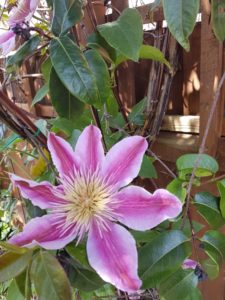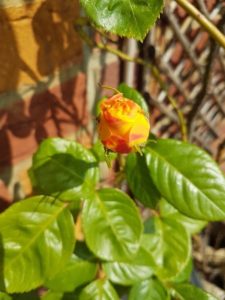 I would love to have really green fingers and the knowledge to grow more fragile plants without fear of killing them off, but having watched my daughter and son in law who grow tropical plants and the hard work necessary to look after them, I wouldn't have the time. I try and get lots of bright colours in my garden and notice a lot of flowers come in purple or white.
I put bird food out every day and I love to watch the various birds coming and eating whatever is out there for them. I love to watch the dynamics when there are several birds and see how watchful they are of each other. I also have a pond in my garden and love to watch the fish swimming around when I need a five minute break from my computer screen. I would love some frogs, but I haven't figured that out yet, although I did see a toad on my walk a couple of weeks ago. He was very well camouflaged, and I took a picture without disturbing him. I am always so in awe of nature and it's capabilities. 'The more often we see the things around us – even the beautiful and wonderful things – the more they become invisible to us. That is why we often take for granted the beauty of this world: the flowers, the trees, the birds, the clouds – even those we love. Because we see things so often, we see them less and less' – Joseph B.Wirthlin   This is so true. I have really taken the time to stop on my walks and wonder at nature, be it Ivy climbing around a tree, a fallen tree still blooming or animals and insects going about their day. It's all beautiful.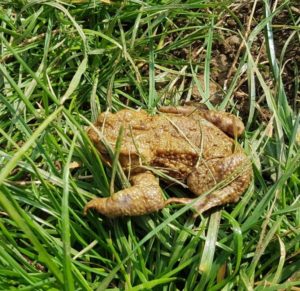 Have a lovely bank holiday everyone and stay safe and well.
What have you seen on your walks? Let us know at www.enquiries.org.uk or WhatsApp 07712 358172