"'Tis the Season to Give"  There's an old saying that goes something like, 'Giving is even better than getting'.  I think that makes a lot of sense, although it's not always my first choice.  Getting is easier and requires less of me.  Giving involves effort.  Sometimes it's hard to find that generosity (it's in there somewhere, even when I need a break, or feel like just being a blob and doing nothing).  There's a time for selfcare and rest, but I've found there's a time to get up, get off my butt, and give too.
But giving doesn't have to be a huge undertaking for it to be worthwhile (to you and to those who are helped by your giving).
Here's a photo of some lovely homemade cookies (biscuits for you anglophiles):
These were baked and donated by a friend who's in addiction recovery.  He's learned that giving to others of our time and efforts is great for mental health and recovery from addiction.  He gave of his time and talent in the form of these lovely tastiness, which in turned helped our Welcome Music Jam.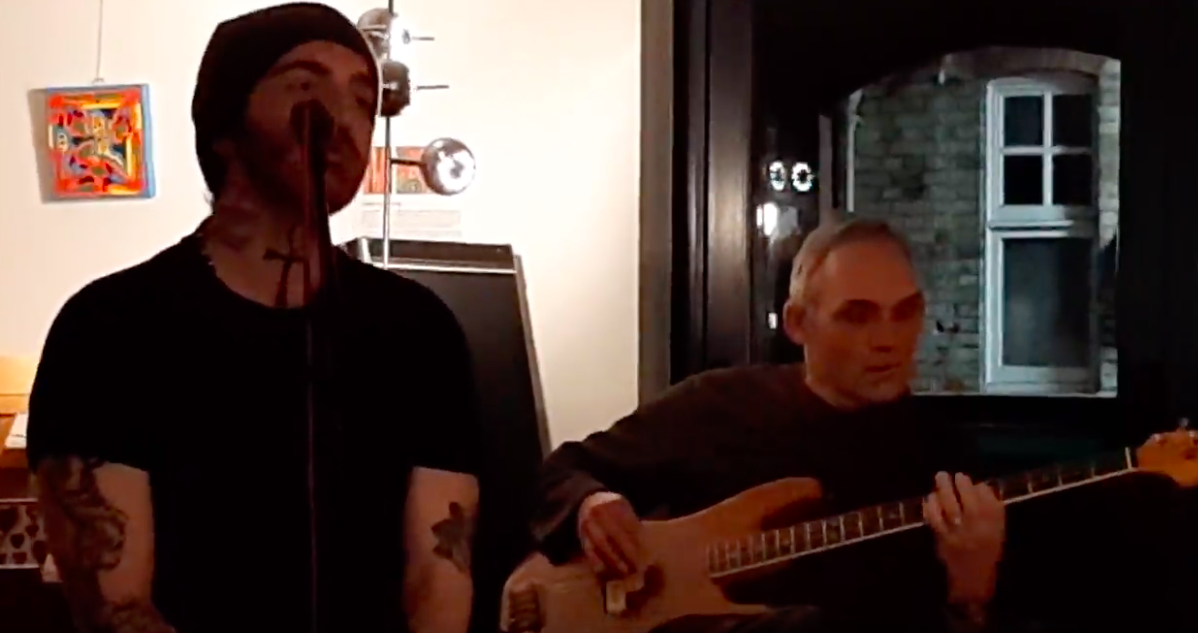 This fun sober gathering is a great example of giving.  It's ran by volunteers and those who kindly give resources.  The venue with the comfy sofas and chairs, beautiful art and comfortable atmosphere has been made available by the Edge Cafe.
The Edge is all about giving as they're a community interest company, so their purpose is to give to our local community.  They give by making all their groups and workshops completely free.  Besides offering free food that's been donated (given!) by local businesses, they have people on duty ready to chat to people who need an ear for listening or understanding perspective in regard to addiction or mental health challenges.
The Welcome Music Jam is good example of volunteering flexibly and with creativity.  Every musician who comes gives of their time, they bring along their musical instrument (if they have one), their energy and talent.  For the Jams,
Encouragement is a vital resource that everyone brings and gives freely.  As people get to know each other, they sometimes allow others to use their instruments–giving again!  The organisers give of their time to plan and organise the Jams, and anyone can come early to help setup, stay late to help clear up. We help by washing up and by giving lifts to each other sometimes.  The simplest giving helps–like lending a guitar tuner.  The audience gives with their supportive applause and energy.  As one of our regular musicians wrote on social media recently, 'There's little point in being a musician without an audience." so we need people to come and give by enjoying themselves.
Volunteering is a great way to try out the idea of taking your giving to the next level.  You can give just a little, depending on your availability.  But the benefits you'll enjoy, even by giving just trying it out, are plenty.  I'd say this list of benefits from volunteering are mostly true for lots of other kinds of giving:
good for your mental health
good for your mind and body
can advance your career
fulfilling and fun
connects you with others
makes new friends and contacts
increase your social and relationship skills
combats depression (brings happiness)
self confidence
sense of purpose
exercise might be a byproduct
valuable job skills
satisfaction of making the world (neighbourhood, community) a better place!
There are endless opportunities to volunteer.  All around our county there are places and times to volunteer with CGL, our drug and alcohol recovery services where you'll find passionate people committed to helping each other.  Plus there's the Good Life an exciting new way to connect members of the public, with help from mental health experts and charity workers.  If you can get to Mill Road, Cambridge, then pop into the Edge Cafe, and talk to them about volunteering, giving or getting some support!
But it's important to not make giving too complicated or too big.  It may sound silly, but I'm not joking, I mean it that giving someone a smile counts!  Picking up a piece of litter and putting it in the bin is giving to your neighbourhood!  Nothing is too small a gesture and a world of kindness starts with each and every small gift of time and thoughtfulness.