Giving to Self: 7th Day of Christmas
At this time of year, there's plenty of adverts saying you deserve to take care of yourself.  I agree with that.  But I'm writing here about giving to ourselves in ways that don't need to cost money.  Do you know you're worth a priceless and scarce resource?  time!  Yes, you are worth taking time to rest.  You are worth taking time to laugh and you are worth taking time for you.  I sometimes struggle to believe this about myself, so I know it's not easy.  But I invite you to join me, on this 7th day of Christmas, to be kind and give.. to ourselves!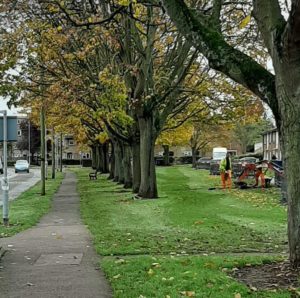 I often walk down the same street, and only today I noticed the beauty of a line of trees that runs parallel to the road and path.  That appreciation helps my mental health, but it only happened because I gave myself some space to notice.  It's a rainy hazy day, so the sky wasn't so nice to look at, but there are leaves everywhere and watching the wind blow them around is therapeutic.  Writing my feelings and thoughts are another way to value myself and take care of myself.  I sometimes am tempted to believe that I'm not good enough and that I don't matter.  But the simple decision of not putting in my earbuds to listen to distractions… The action of not looking at my phone but instead noticing things around me and find some quiet helps me to get beyond those silly unhelpful thoughts and give myself what I really deserve.  I hope this holiday season you find a way to give to yourself, this season of giving.
Sleep is another important way to take care of ourselves.  My son used to fall asleep about as quickly as his head hit the pillow.  But this was when he was a child, it isn't always so easy as he's grown up.  Many of us struggle to relax and switch off so we can fall asleep. Here's some useful information about sleep from a website that has a plethora of good ideas and links.  Check out this article and the other pages on Keep-Your-Head.com
"Remember that Christmas is about more than presents. There are also cookies."