The Good Life Service from CPSL Mind has linked with Qwell, an online counselling and wellbeing support platform for adults to offer more accessible support options, especially during this difficult and uncertain time we find ourselves in.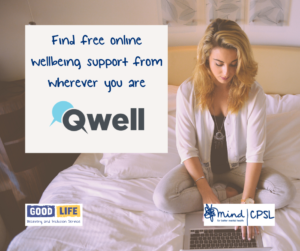 Qwell is easy to join and easy to use, with everything set out clearly and simple to navigate. You can sign up anonymously on any device for confidential support. Qwell has many useful sections, including a chat service with trained counsellors, moderated peer support forums, and a mood journal. There is also a useful 'Links' page with easy access to other organisations offering further support, information and resources. There is an 'in crisis?' button on the login page for quick access to essential numbers and in the chat for when the Qwell counsellors are not active.
I have found the goal setting and mood journal tools really useful ways to chart my progress. Each morning I log in and update my mood journal, choosing an emoji that best fits my mood and writing one or two sentences to describe why I feel this way. I review goals I have set which keeps me accountable and I can then incorporate them into my day. When accessing support with the counselling chat service, you can get some extra help in managing and achieving your goals, and your counsellor can set you goals based on your chats together.
Next, is the forum section, where you can start a new discussion or browse through the categories that relate to you. The peer support forums are a really useful tool and as the site grows and more people sign up they will continue to be even more effective, with more peers giving and receiving support from one another. I think it's so important that the forums are moderated twice daily, this keeps the environment safe and supportive for everyone and alerts the chat service to anyone who may be in crisis or need of extra support.
There is a whole selection of articles in Qwell's online magazine, written by counsellors and by peers. This is great to see an opportunity for peers to share their thoughts and tips, it helps us to feel understood when we relate to others similar experiences and both the writer and the reader feel less alone in their commonalities. I like that you can search by topic, this for me helps to filter my exposure to certain topics, such as excess covid-19 updates which can be found just about everywhere at the moment! I have found the health & wellbeing and self-care articles really useful and have found some new ideas to try out whilst in lockdown!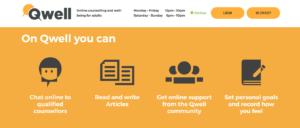 You can access up to 6 hour-long sessions of weekly online counselling either by dropping in to a chat queue or messaging the team and booking a time slot. I have found the mail section can sometimes be slow to update or show responses from the team, and of course the drop in queues can get quite busy depending on the time of day. One thing to watch out for is the chat doesn't automatically notify you when you get a response, I suggest keeping the chat page open if safe for you to do so.
I think it's also worth mentioning that this platform has a 'hide page' button at the bottom of each screen. This is an essential safety feature for those accessing support from challenging or unsafe environments such as when experiencing domestic violence. You can click on the hide page button and you will be directed to Google home page. The website also has further information on how to keep browsing private by hiding the search history.
Overall, I've been really impressed with the offerings on Qwell and think they could be really beneficial to so many during these unprecedented times. I believe that with the strong peer-support element, the more people who sign up to use the service, the more beneficial the service will become.
Grace (Guest Blogger) and SUN Network member