On the 9th Day of Christmas, I will give myself (more) honesty.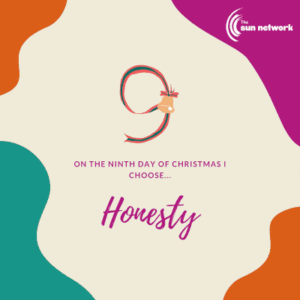 The first time I heard that addicts sometimes agree to have a lie detector test as a way to reassure their partners that they are being honest, I balked.  How ridiculous!  But the idea is that for years, maybe decades, addiction habits fuel lies, apologies and promises to do better, which loop around and around deteriorating trust.  Our earnest desire to stop doesn't bode well when we fail again and it all goes up in flames (repeatedly).
So, yes, honesty is an important part of recovery.  The twelve step program has put 'denial' into popular vocabulary.  Recovery places a very high importance on honesty.  Here's an excerpt from one resource that is read out at most twelve step meetings:
"All participation is voluntary. We are not required to speak if we don't want to. Just by listening we can learn how other members become honest, confront their addiction, find support from fellow addicts, and practice the program. We can learn how others have faced problems that are similar to ours, and how they have used the tools of the program to deal with them. Members can have any religious belief, or no belief at all. All addicts seeking recovery are welcome."
I see the twelve step approach as looking at honesty through a filter of humility:
"In taking the First Step, we admit that our addiction is destroying us, and that we are unable to stop it.  We surrender, raise the white flag, and accept that the battle is over. The principle behind this admission is honesty."
An alternative program, SMART Recovery, which is described as self help based on psychology, mentions honesty as a crucial ingredient to recovery as well.  Here's an excerpt from an article offering relationship tips where addiction is involved:
"Communicate from integrity. Be honest regarding beliefs and evidence that conflict with your own views of what is happening. When your partner is right, admit it.  Be both honest and tactful. Allow different perceptions to exist.  Agree to stop penalizing each other for your honesty as you now often may do.  Agree that both of you will be honest and let the other 'get away' with honesty."
Father Christmas might have rewarded you when you were a child for your honesty (He knows if you've been bad or good"..,).  But now, as a grown-up, you should reward yourself, as it takes courage to be vulnerable in this way.