Have you thought about getting help online?
Many believe a big issue found with many mental health problems (not just addiction) is isolation. Does connecting online count or does only face to face support work? Maybe we can do both.
Live CBT in Cambridgeshire/Peterborough:
Self Referral instructions and form for Cognitive Behavioural Therapy (CBT) are here. As outlined by those links, this isn't an emergency service so contact your GP or ring First Response Service by dialing 111 and choosing option 2 or visit your hospital's A&E if you need urgent care. There is a waiting time to be assessed and a wait to get referred for CBT. When I queried CPFT Psychological Wellbeing Service I was told that CBT appointments can be accessed over the phone or in person, (mainly Peterborough, Huntingdon, Cambridge and Fenland/March). Triage for suitability takes around four weeks. The next step is an assessment which takes around four weeks, and can be done in person or via telephone. Lastly, it can take up to eighteen additional weeks wait for an appointment.
Online can be a good place to go at your own pace.
Here's some of my thoughts about online Cognitive Behavioural Therapy. CBT is something I've been interested in, so I tried the online version offered for free in our county from the SilverCloud website. After registering on the website and logging in, there is a mixture of videos to watch, information to listen to, and our own specific answers to type in. They have short guided meditation videos to use after filling out the required preliminary assessment questions and everything I entered was saved so I could go back and revisit it at my own pace.
Here's what the main screen looked like for me, which shows journal, meditations (mindfulness), Goals and more: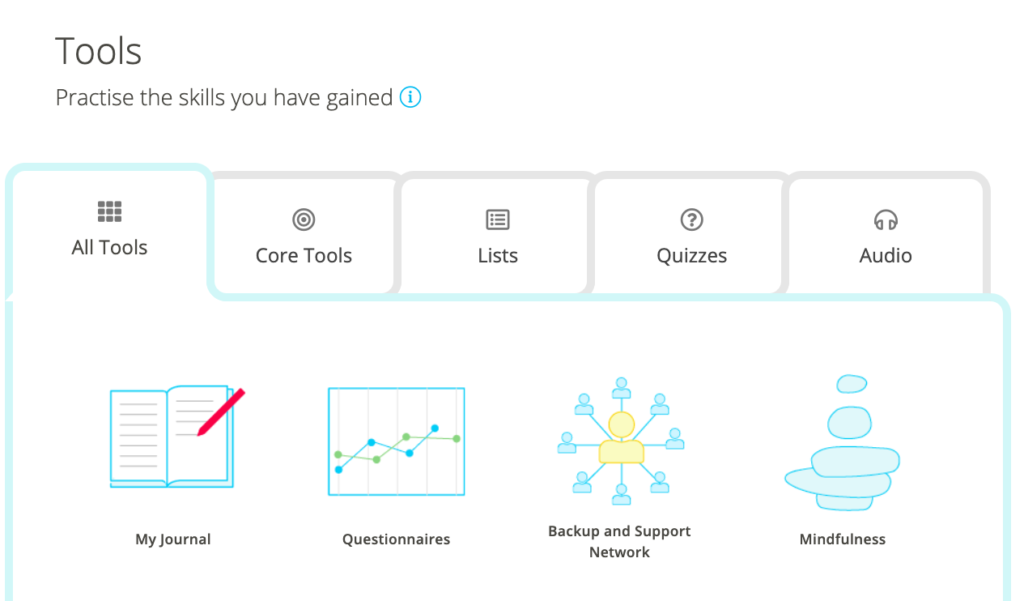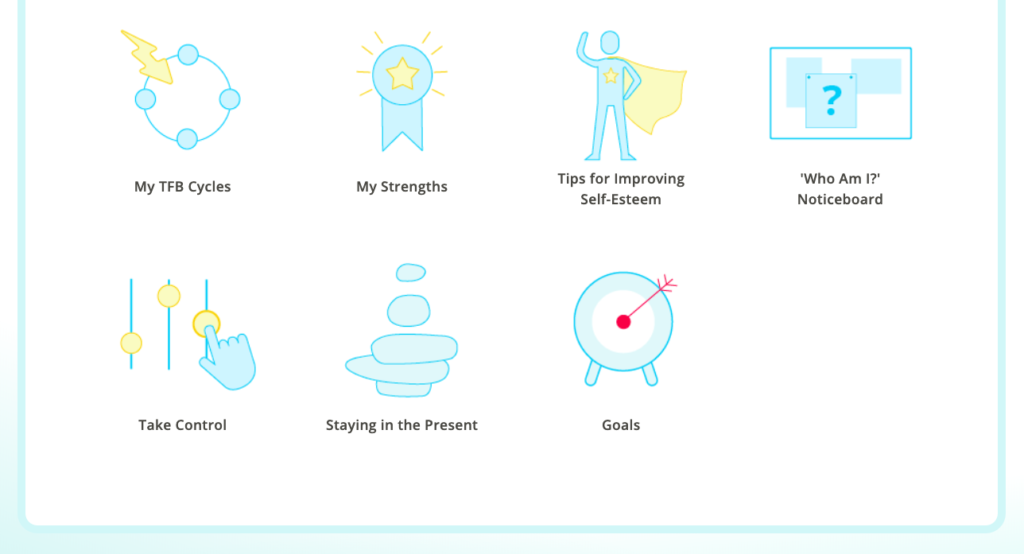 It took me a while, but I eventually unlocked the section where I could work on a 'hot thought' and record my 'thought record'.   Here's some of the learning offered on the site:
Negative Thinking

We tend to believe automatic thoughts without questioning them

However, sometimes those automatic thoughts can start to tell us very negative things about ourselves and the world around us. Because they are automatic, we believe them without questioning them. We may not even notice the thoughts because they happen so fast, but we notice the distressing feelings they cause. When our negative automatic thoughts are causing us distress, it is time to try and slow down these thoughts so we can have a look at them.

If  we can spot the distortions in our thoughts, we can question them

Most people believe these negative thoughts without questioning them. Automatic thoughts that are unreasonably negative are distortions. If we can spot the distortions in our thoughts, it can help us to challenge them and come up with more balanced alternative thoughts.

Remember you are not alone. Everybody experiences negative thoughts from time to time.

Although events can influence our thinking and make us feel bad about ourselves, we can learn to think differently and challenge some of the negative automatic thoughts.
And here's a video that explains hot thoughts and uses examples in less than 8 minutes:
I will admit here that I was suspicious, not just before, but during the exercise. When I first got to this section I remember I didn't feel keen to drag out these thoughts by myself by using a website. The SilverCloud service does include a real mental health professional reviewing our entries, but it takes a few weeks so it's not what an extrovert like I would choose. I came back to it later when I felt like giving it a try. It wasn't as good as face to face, but before long I caught myself in a better mood and gave it a go. As I wrote down my own thought record details I remember thinking, 'this isn't going to help because I already know all these things. There's nothing new, so it surely won't help'. Still, I must have had a slightly open mind as looking back on it I could see a definite improvement. Of course everything isn't perfect (it never will be). But it helped so I'm glad I persevered.
Finding a good friend or trusted family member to talk to is important for my mental health, and there's a world of knowledge to find online. But regardless whether I apply for an appointment for face to face CBT, if I'm willing to try the online version offered for free, I can get some help quickly and at my own pace while I wait.
Interested in online addiction support? In Cambridgeshire and Peterborough you can contact our drug & alcohol services as they offer free access for their clients to use an online tool to help specifically with addiction recovery.
Finally, here's a video that was shared at a face to face addiction recovery group last week: