T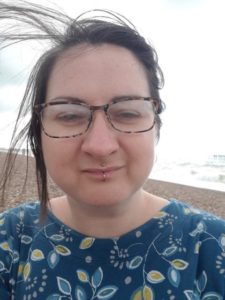 he SUN Network asked Kim Laidler to share her reviews of mental health apps and services that she had recently accessed so that we could share those views to help others that may be thinking about using these apps.
Kim (pictured) kindly shared the following reviews on Feeling Good, Calm Harm, Blurt, Qwell and the Good Mood Cafes. Have a read and see if any of these services are for you.
Feeling Good
I was advised to look at this app after creating a Mind Plan on the NHS website Every Mind Matters. Feeling Good is a straightforward app that has a simple pathway of tracks to follow that talk you through a mindful process that are part of a Positive Mental Training.
Visually I thought the Feeling Good app was so user friendly with obvious buttons and the colour palette wasn't too overwhelming, I found this helped lower any anxiety I was feeling-or create any anxiety! At the other end of the scale, I need to have stimulation and inspiration so once I had reached the stage of the course where I'd listened to the five tracks that were available, I found it a challenge to revisit tracks to increase my resilience.
Calm Harm
Calm Harm is initially designed as a tool for someone to use if they feel like harming themselves. My use of this app has not been for this but because it has a Googleplex of ideas of how to keep my hands and head busy!
Ride the Wave is full of ideas, this section of the app is divided into six activity types- Comfort, Distract, Express Yourself, Release, Random and Breath so it's easier to navigate around such a huge database. There is so much more to offer on the app, I've been distracted each time because of this huge stimulation of ideas!
Illuminate charity recommended Blurt through an email. Its aimed at people who experience depressive moods, but I was initially drawn to their sparkly Buddy Box that is open for anyone to buy. It's offered monthly with a different theme of self-care, after three months of indulgence I strongly believe I now can't put a price on my self-care!
I think Blurt is also worthy because of their resource pages that are so sympathetically written, I have trusted to share some articles to loved ones to offer advice and show gratitude for their support. Blurt also send out beautifully written emails, I love reading this weekly reassuring letter from a peer.
I've recently joined Qwell after reading about the app on the CPSL Mind website. I thought the journey the app took me through once signing in was clever as I was immediately greeted with an option to log a mood diary. I find keeping journals tedious but here I had to choose an emoji face that best suited my mood and I could then look back and track my mood.
My reason for joining Qwell was because I really needed to talk to someone 1:1. The lockdown had lost me contact with my support network, and I needed somewhere to offload my baggage. Qwell has an option to email the team, where I would have expected a reply within 24 hours, or request to chat with a member of the team. There are restrictions on the chat service but as a short-term thing until I can get that part of my life back it suits me.
Good Mood Café on Zoom
I had to overcome a few fears before I could access Zoom, it's a really useful app for me and has helped me to recreate social groups I would have normally attended. I sent an email to the Good Mood café address goodlife@cpslmind.org.uk and they replied with a link and a password that I had to use at the time the Good Mood Café was set to run at.
At the time the Good Mood Café was being held I was doing some crafting at home, I wanted to continue to keep my hands busy, so I turned my end of the Café into a craft club. This was really significant to me because I attend and help run craft clubs so there is a hole in my life at the moment. I love how Mind staff are flexible and give these opportunities to anyone without question.
Please email goodlife@cpslmind.org.uk for info on how to join a Good Mood Café on Zoom.