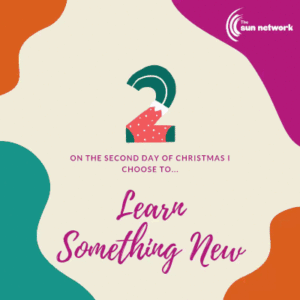 On the Second Day of Christmas, I will give myself the gift of…
Learning something new
Research shows that learning new skills can also improve your mental wellbeing by: boosting self-confidence and raising self-esteem. helping you to build a sense of purpose. helping you to connect with others.
That's number three of Five Steps to Improving our Mental Wellbeing
There are free training courses, but don't forget the wonderful world of the internet, blogs, online research and, of course, Youtube!
There's a philosophy, a self-help, a community, that some call a way of life, that has learning as one of its' daily recommended actions:
Just for today I will strengthen my mind.   I will study.  I will learn something useful.  I will not be a mental loafer.  I will read something that requires effort, thought and concentration.
Our mental health is like a garden that needs nurturing.  Rest is needed, but so is exercise.  Flex the muscle of your mind and enjoy the strength that you get along the way.