Hey. How has your week been? Have you had any time off recently to enjoy our beautiful summer? I have a holiday booked for September so am counting down to a break. It's so important to switch off and relax at regular intervals and just check in with yourself and how you are feeling. It's so easy to overlook with our busy lives.
I am really excited about a couple of new projects we are working on here at The SUN Network. The main one we have been finalising this week is around mental health in the workplace.
Did you know that mental health is a protected characteristic covered by the Equality Act 2010? You cannot be treated unfairly or discriminated against for your mental wellbeing.
One of my previous jobs was really stressful and we had high rates of staff absence due to stress and anxiety, but although management acknowledged a problem, (staff shortage) they didn't actually do anything to rectify the root cause (mental wellbeing), and I wondered how many workplaces are really supportive and show awareness of the mental wellbeing of their employees? And I don't mean a token tick-box event for 2 hours once a year or using occupational health as a threat to get people back into work, I mean a genuine consultation with staff, find out what the needs are, remove the stigma, create a safe space, have a Wellbeing Wednesday once a month, identify mental health first aiders commitment to staff wellbeing.
We are asking people how they experience mental wellbeing in the workplace and if they feel supported within the workplace. We would love to hear your thoughts. You can have your say anonymously by clicking the link here. This will shape our work moving forward.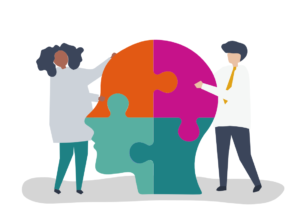 We are also looking for companies to participate in the project whereby we can come and speak with staff and managers and help identify some themes around mental health and make recommendations to improve mental health support in the workplace. So, if you are a manager or think your workplace would benefit from participating, please contact me and I can outline the proposal in more detail and the benefits to the company and employees. Lois.sidney@sunnetwork.org.uk
We are very lucky at The SUN Network as mental wellbeing and addiction are talked about very openly in our office as we all have lived experience of mental health challenges or addiction challenges,  We recently had our team away day where we looked at personalities and how we connect and work together as a team. One thing that did come out of that day was that the team wanted to meet as a team once every couple of months, away from the workplace just to be themselves and talk together outside of the office. That is a great idea for improving team wellbeing and connecting as human beings. So once every two months we have 'Team Time' where one of the team create something for the team to do together. It really boosts wellbeing and productivity.
Don't forget that you can become a member of The SUN Network (it's free) and you will receive news, updates and opportunities to have your say or be involved.