Firstly, a happy 4th of July to anyone celebrating today. Absolutely loving this sunshine, I find it so uplifting, really makes me feel happy.
I have just come back to work this week after a month of working from home and I have to say, I was surprised at how isolated and left out I felt at home. I mean, it's my home right? I love it there. But too much of a good thing means you miss out on other good things. Email, text and phone are amazing and useful, but nothing replaces a face to face conversation where you can see smiles and frowns and eye rolls! (Why do I see so many eyerolls? Is it just me? Ha ha.) Humans are social beings and it is so important to keep in touch with friends, family and peers that can help and support us, or just help us smile today.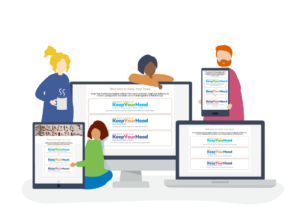 I have had quite a busy week this week and I had the honour of attending a carers group in Cambridge yesterday and hear some of their experiences of supporting their loved ones with mental health issues and also manage the impact this has on their own mental wellbeing. It was saddening to hear how desperate people become when it feels like there is no help out there. If you are a carer there are support services for you; MakingSpace, Rethink and CarersTrust, and there's also Keep Your Head is a website that can help you find mental health support in your area.
We have lots of involvement opportunities for carers at the moment, and this includes The Winding Road project that is open to carers and those experiences mental health challenges and we are looking to follow people's mental health journey over a year with an interview at the start, then again at 6 months, and lastly at the year point, to see how people are experiencing and managing their mental wellbeing and if they are able to access the correct help and support at a time when it is needed. This project is exciting as it doesn't just get a snapshot at a particular moment in time, but captures a journey with all it's ups and downs. If you are interested in participating in this project please contact me at lois.sidney@sunnetwork.org.uk and I will get back to you to discuss it further.
The rest of my week has flown by in a flurry of meetings and paperwork, one of these days I'll catch up!!
Have a fabulous weekend, make sure you meet up, or talk with other people, and remember if you want to feedback about a mental health or drug and alcohol service in confidence, you can contact us at enquiries@sunnetwork.org.uk or the button below. We would love to hear from you, and your feedback makes a huge difference to how services are run.