Hello Everyone.
When I blogged last month, it was the height of summer and very hot. This month, I see the leaves turning beautiful shades of red, orange, and golden yellow and I am reminded that the season is changing, and Autumn is on its way.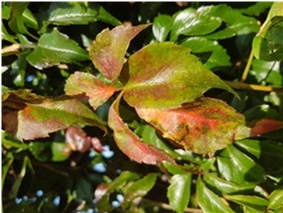 Change is necessary, and can be welcomed or feared, and a lot of this has to do with control and choice. Some of us will have experienced big changes this year due to the Covid-19 pandemic and will have had to change our long-term plans and think in more immediate terms whilst cautiously planning for the future.
When I take a closer look at nature within my garden. I have a lovely Ivy that in summer, grows and grows, and really takes some keeping on top of. In Autumn, the leaves turn a beautiful deep red and drop away and the plant sleeps until spring.
I'm sure there are those of us who find certain conditions hard to thrive in and would like to hibernate through them. Self-care can really help here. Nurturing ourselves through the times when things are not quite as we need them to be until such time that we are in the best place again. Making sure we look for and receive the support that is out there from friends, family and services. Knowing we are worthy of such support. You can find out what mental health and drug and alcohol support is available for you by contacting us at enquiries@sunnetwork.org.uk or whatsapp/text/call 07712 358172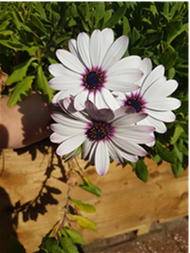 I also have these pretty little Osteospermum (African Daisies) who flower all year round in my garden despite being a summer flower. This is one of my favourite flowers, and it always looks happy to me. It makes me happy and it's so resilient. I deadhead it all summer long and it keeps growing back and smiling at me from my flower beds.
I often marvel at the resilience and optimism of nature. The ability to grow and flourish in conditions that are far from perfect. I wonder how much control and how many choices we really have if we stop to think about it. Even when it feels we have no choice, we can decide to make a choice, even just a small one. This can ensure our needs are met and help our wellbeing. Don't give your choices away – make them for you.
There are some big changes happening in Cambridgeshire and Peterborough with the thinking around how best to support those who need mental health and drug and alcohol provision. The SUN Network participate in these decision-making meetings such as The Crisis Care Pathways, Dual Diagnosis Meeting, The Exemplar project, and the Community Mental Health Delivery Board.
If you would like to hear more about the decisions being made, or better still, be a part of that conversation, we would love to hear from you.
enquiries@sunnetwork.org.uk or 07712 358172
Have a lovely week everyone, and appreciate the small choices you are making.