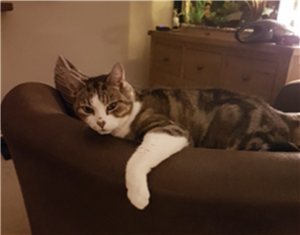 This week is the perfect blog week for me. I am a massive animal lover an it is National Love you Pet Day today and as any animal lover knows, your pets love is such an unconditional and trusting love. No matter how hard my day has been or how busy I am, I know that my pets are always going t be super pleased to see me when I get home. And I love to see them too. I have dogs, cats, bunnies and fish. Let me introduce you to my pets: My oldest pet is my cat Odie who will be 16 this year. He is the friendliest cat I have ever known. He is all about the cuddles and loves being picked up. Partial to tuna, chicken, cheese, cream and milk, and very tolerant of the neighbourhood children who love to cuddle him. He's a pretty boy! However, he has a really loud meow that he likes to practice at 6am right outside my bedroom door!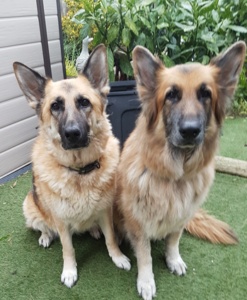 These two beauties are German Shepherd Dogs, Roxy on the left who is 8 years old and Randall on the right who is 9 years old. Randall is a complete mummy's boy, and such a softy. Roxy is a very protective guard dog who loves to bark!! We got Roxy to keep Randall company and they are inseparable. They love long walks and weekends away somewhere new and exciting. They love all other dogs, cats and rabbits, despite the cats giving them a few slaps. Roxy is super intelligent and agile. When you see these dogs run and their speed and agility, it really makes total sense why they are picked to be police dogs. We have a cat flap in our front door and Roxy has surprised many a visitor by sticking her head through it when the doorbell goes. I get the best welcome home in the world every day from these two. Their love is limitless, and they always bring a smile to my face. I find they really support my mental well-being.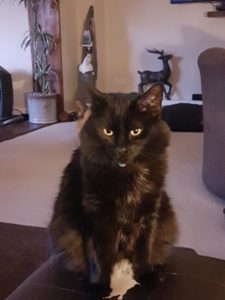 Next to join my expanding band of pets is Kitty. Kitty is 7 years old this year. I went to visit a friend for a cuppa and came home with 2 kittens. Yay! Sadly, we lost Kitty's sister, but Kitty aka 'The stalker' follows us everywhere. She refuses to go outside other than the garden and only if the weather suits her, and of course, you are out there with her. She is a veggie, turning her nose up at meat in favour of peas and sweetcorn. And I have no idea how it happened, but she has a glass of water in my bathroom that she expects to find filled with fresh water daily.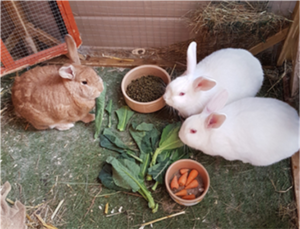 Cocoa (brown bunny) Luna and Daisy are my rescue bunnies. I got Cocoa when he was 10 weeks old. He had been attacked by other rabbits and was considered unsellable. He is cheeky and naughty and so funny. Daisy and Luna are sisters that we got from an animal charity to keep Cocoa company. They are all a year old. Two things I now know about rabbits. They are incredibly nosy, and they are greedy too. They will be your best friend for a treat.
I also have tropical fish and a garden pond with koi and goldfish. My absolute dream would be a small holding with goats, donkeys, sheep, chickens, dogs, cats, rabbits…………
However, until I win the lottery, I'll have to stick with what I have as there is no more room at the inn.
I would love to see pictures of your pets and hear about their personalities. Please do share them with us on our Facebook or Twitter.
Share a picture of your beloved pet. I would love to hear about them.😊😊😊