Hello everyone!
I'm going to dive straight into work updates as there is so much buzz around Co-Production right now it's making be very excited! So for the past couple of weeks, I've been in Peterborough making some connections and brainstorming ideas with services on how to efficiently hear service users voices. Not naming names right now, but most definitely watch this space for exciting developments.
One of the bigger pieces of work I have been working on behind the scenes is planning on setting up a co-production group within Peterborough. This is still in the early stages, but I am very excited to see this project lift off the ground. So, if you have lived experience of multiple disadvantages and live in Peterborough drop me a message as I would love to have a chat.
I have also been in Cambridge this week and had a lovely visit to The Edge Café to hear about all the wonderful things that have been going on. I am very excited for their Community Fair on Saturday 6th November, it will be a great atmosphere and I am hoping to go along with my family- I hear there will be hook the duck, amongst other fantastic things!
Life has been pretty much non-stop since September and it is important to look after yourself, unfortunately I always find this hard. I made a great development over the past month by taking some time for my own mental health when I knew I was struggling, it wasn't easy, but I felt better than ever when I shared my worries. Between balancing work, life, health problems and family it all can be a bit much, but to stay productive I need accept this and understand when I need to ask for some help.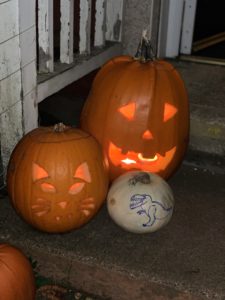 Pumpkins designed by my 4 year old, carved/drawn by myself!
Enjoying family time always helps to lift my mood, and we have had great fun celebrating Halloween this weekend, and my little boy had his first experience of trick or treating, how did you celebrate?
Best Wishes