14.2.21
Hello, I am Natasha, and I joined The SUN Network at the beginning of 2021, and what an amazing 6 weeks I have had so far! I have had my own mental health challenges which has shaped how I work and fuels my passion for the work I am doing. I have a young son who has Haemophilia, and he is also Autistic. I am also due to be getting married later this year (hopefully!).
My role at The SUN Network is Co-Production Facilitator for Multiple Disadvantages. I am here to listen to people who have experienced multiple different challenges and amplify their voices which can help towards positive changes in services. The term multiple disadvantages describe individuals who have experienced many challenges at any one time. This includes challenges of ill mental health, substance misuse, domestic violence, homelessness, and criminal behaviour.
Co-Production is a fascinating way of working where everyone can share their experiences and opinions to shape a shared outcome. This way of working can allow projects and services to be created where people with lived experiences are ingrained throughout the process, and not an afterthought for feedback.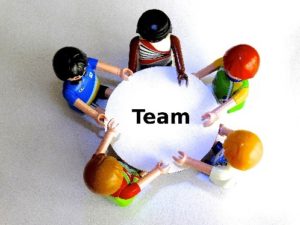 Like the picture suggests, everyone can have a seat at the table in co-production, no one's views are above someone else's.
I have to say starting a new job during a global pandemic was an experience, it has meant that connecting with people has had technical challenges. Since I started, I have met some incredible people whos' voices speak with so much passion that it would be impossible to not want services to engage with those who have lived experience to improve upon the services they can offer. I have looked at working from home as a positive to connect with services in Cambridge and Peterborough to spread the word about co-production, and I have to say I would never have met so many people in person, the joys of technology!
Part of my job here at The Sun Network is working alongside the Cambridge Co-Production group. This group has been established for over 2 years and provides a space where people with lived experience of multiple disadvantages can meet (in person and virtually) once a month to share how their experiences of services has affected their lives. Services and Organisations are encouraged to come along to speak with the members of the group and to hear their stories and be open to working in a co-produced way. Together with professionals the co-production group use their experiences to influence positive future changes in services.
My work is always changing as I am fortunate to work alongside my colleagues on exciting new projects focusing on co-production. If you would like to share your experiences with anyone of us at The Sun Network or be involved with any of the opportunities we are currently advertising please click the link here.
Thank you
Natasha 🙂