Spring Timetable
​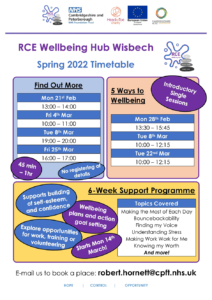 Our Spring Timetable is here! We have a series of 'Find Out More' sessions that provide an opportunity to find out about what the RCE Wellbeing Hub is all about, meet some of the team, find out what our courses feel like. And you can ask any questions or queries you might have about us or our courses.
We are also offering some one-off taster sessions around the '5 Ways to Wellbeing'. These 5 ways look at how we can support our personal wellness through Connecting, Keeping Learning, Taking Notice, Being Active and Giving. This session also works as a seemless introduction to our longer 6-week Support Programme.
The next cohort of our 6-week Support Programme starts on the 14th March, we have had wonderful feedback about the programme and how its structured approach is really helping people to look ahead at what the next stage in their live involves for them. Designed to support development in wellness planning, self-esteem, confidence and communication this programme helps students to explore the opportunities that may be right for them within work, education, training or volunteering. Students can register for this 6-week programme directly here: https://forms.office.com/r/VRYy8kH0PM
For any queries, more information, booking or direct referrals please contact: robert.hornett@cpft.nhs.uk
​We can come to you!
​Are you interested in finding out more? Do you run a group that might benefit from our sessions?
We are very happy to attend any group sessions or team meetings and deliver some information for you and your members. We could do a simple presentation or even a taster session specifically for you.
Please email robert.hornett@cpft.nhs.uk to discuss what we could do!
Opportunity Fayre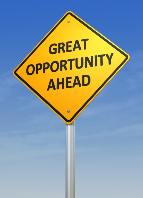 We are also hoping to run our first 'Opportunity Fayre' for our students at the beginning of May. We want this to be an event where our students can meet and find out about the wide variety of options and support available to them.
We would love to have representatives from local education and training providers, employment agencies, employment community projects, support services, volunteer opportunities and groups, etc. This will give our students the chance to hear about what is open to them, how they might get involved and be supported and it is very helpful to meet someone and put a face to an organisation.
So, we would love you to get involved with this! Please let us know if you would like to attend or get involved with this event by emailing: robert.hornett@cpft.nhs.uk
Volunteer Opportunity
We are delighted to be able to offer potential volunteering opportunities within the RCE Wellbeing Hub Wisbech team! If you might be interested in finding out more or offering your skills to support this project, then please get in touch: robert.hornett@cpft.nhs.uk
We're on Facebook!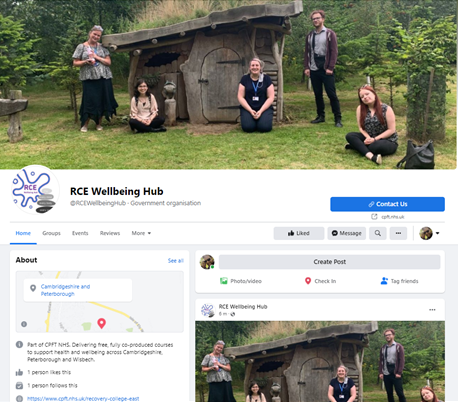 We have just launched our new Facebook page!
RCE Wellbeing Hub | Facebook
We are hoping this will allow us to share the good news from the RCE Wellbeing Hub and spread awareness of our courses even further to the people of Wisbech along with the rest of Cambridgeshire!
Please help us get this new page off the ground by giving us a like and sharing our posts and updates!

(we are also still on twitter here: RCE Wellbeing Hub (@CPFT_RCE) / Twitter, so a follow and retweet would be great too!)