Sadly CPSL MIND has had to announce the temporary suspension of some services & changes to others as a result of the coronavirus (COVID-19) pandemic. This decision has been taken as a precautionary measure to protect health & welfare. Read their full statement below:
t is with regret that we have to announce the temporary suspension of our community-based services – namely our Good Mood cafes, Open Door calm spaces, Peer Support Groups and Perinatal Groups – until further notice.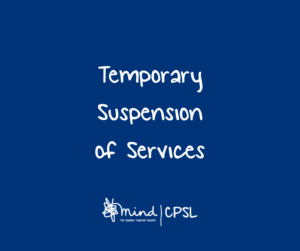 Our Changing Lives Counselling Service has also been temporarily suspended and we will be unable to accept new referrals at this time. Our Cognitive Behavioural Therapy service will continue but as a telephone-based service instead of face-to-face. All individuals affected will be contacted directly.
At this stage, this temporary suspension will not affect the Sanctuary or individuals receiving specialist care packages through our Good Life service. Individuals will be advised directly of any changes to their care.
If you have an upcoming training course booked with us and have concerns, please contact us on 0300 303 4363. You will be contacted directly by our Training Team to notify you of any cancellations.
Please visit https://www.cpslmind.org.uk/suspension for a full summary of the services affected and for details of who to contact with questions or concerns.
This decision has been taken as a precautionary measure, in response to the government's advice regarding the coronavirus (COVID-19) infection, to protect the health and welfare of individuals engaging with our services as well as our volunteers and staff.
We are reviewing the situation regularly to re-open all of our services as soon as possible and we will issue a further statement as the situation develops.
We understand that the coronavirus (COVID-19) pandemic may cause anxiety and advise anyone who is concerned to read national Mind's information page 'Coronavirus and your wellbeing'.
If you are experiencing an emotional or mental health crisis in Cambridgeshire or Peterborough, please call the NHS First Response Service on 111, Option 2 or visit cpslmind.org.uk/need-help-now/ for more helplines.