Hello everyone, I hope you're having a good week so far and are staying safe.
Over the last few weeks I've been busy working on several projects. One of the main projects I've been working on with Charlotte is facilitating workshops with those with lived experience of an eating disorder and those who have experience caring for a loved one with an eating disorder to create literature for booklets and information that will be posted online, with the aim of helping individuals who are being referred to or accessing an eating disorder service for the first time. Part of this project that I really enjoy is being able to bring to life the ideas and thoughts that are shared in the workshops we hold to truly represent the voice of who have/are currently accessing services. An example of this is the image of mountains below that is being used in the booklet for people who are accessing eating disorder services. The image represents how recovery from an eating disorder isn't a linear thing for everyone and there can be different challenges and milestones during recovery, and there is light at the end of the tunnel.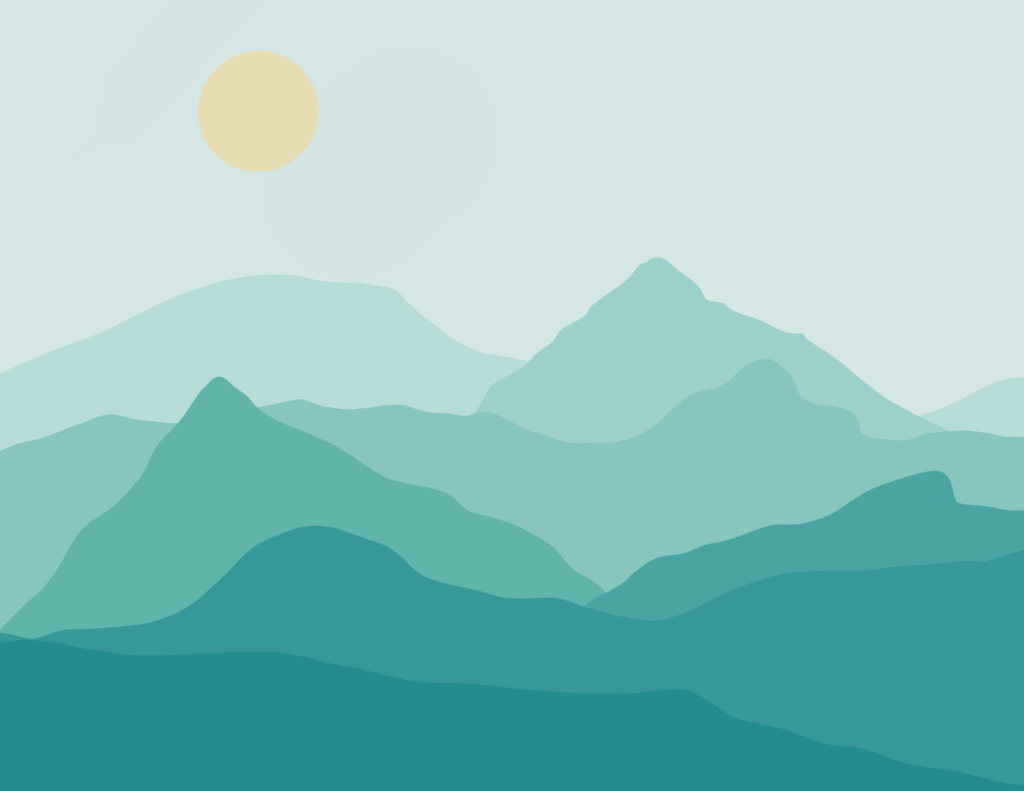 Something else I've been busy working on is my college work for my apprenticeship. I've been working on is prioritising my time so I don't get overwhelmed with my workload and can ensure I'm looking after myself. Some of the main things I do to help prioritise my time are: using to-do lists, allocating time in my diary/calendar for specific tasks and projects and I colour code different pieces of work as I'm a very visual learner, so this helps me to see how many tasks are needed for each project.
If I'm having a morning when I'm feeling slightly stressed or overwhelmed I like to use some grounding techniques to help bring myself back to what's going on in that moment of time. Grounding techniques are exercises you can use to help bring you back into the present moment and focus on the here and now. They haven't got to be lengthy and can simply be a case of taking some deep breaths.
My favourite way to practice grounding myself is to stand up barefoot and start by focusing on what the floor feels like under my feet, then slowly swaying I let my focus on what I'm feeling go up my body, recentering my balance and taking time to focus on how everything feels. Then I take a few deep breaths.
Here's NHS England's grounding technique step by step you can try:
Stand and close your eyes
Become aware of your breathing
Follow the rhythm of your breathing and settle into your body becoming aware of any physical sensations
Wriggle or shift your weight as often as you need to
Then become aware of your feet on ground. Feel the ground. Soften your feet and let go of tension.
Let this awareness travel up your body. Softening joints as it passes, through the ankles, knees, the hips and upwards
Then do the same from your fingertips, following the sense of awareness up your arms to your shoulders. Letting go of tension and tightness.
Then into your head. Look out for tension in the jaw and facial muscles. Make you're your teeth are unclenched, and not touching. Let your breathing soften the facial muscles and smile.
Let your attention now settle back into the pelvic region and remain quiet and still for a short period, say 30 to 60 secs.
Open your eyes and tries to retain some of that softness.
Taking a moment out for ourselves can work wonders and with everything that's been going on over the last year it's more important than ever to check in with ourselves and look after our wellbeing.
What do you like to do to calm down when you're feeling overwhelmed or anxious? We'd love to know in the comments!
I hope you have a wonderful rest of your week!