I'm Vickie, I'm the Social Media and Marketing Manager Apprentice here at The SUN Network. This is my second year with The SUN Network, and it's been an absolute pleasure working here, like everyone else on our team I have my own lived experiences with mental health and/or substance misuse which has given me a passion to help create spaces for people to share their story with us.
My job varies quite a lot from what some people might think I do day to day. So it's great giving you look into what has been going on this week for me.
This week was pretty busy; at the beginning of this week I spent some time posting to our social media's, along with updating The SUN Network website with new opportunities for people to get involved with. I also spent a day updating Keep Your Head with new services people can go to for support.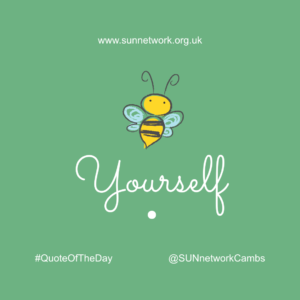 I've also been working on some new campaigns that we will be sharing with you in the upcoming weeks! Being creative is a huge passion of mine, and I like creating images that help stop the stigma around mental health and addiction.
I met up with Centre 33 for a catch up about Keep Your Head this week as I keep the adults and all ages site up to date and Centre 33 manages the children's/young people's and professionals Keep Your Head sites. It was lovely to see how far all of the websites have come along and how much they are helping people find services that will be helpful to them.
Keep Your Head is a central hub for information about all things mental health and services you can go to.
We had a team meeting on Wednesday where we all updated each other on what we've been working on and how we are all feeling. It's so great working in an environment that is so open about mental health, because if one of us is feeling a bit stressed, we're there to help each other out. We discussed some exciting projects we're going to be working on and some ways in which we would like to engage and interact with more people.
Lois and I are attending a workshop at the end of this week about marketing that we're both looking forward to. Developing and learning new skills is something I love doing as I'm always looking to better myself further and bring new ideas to what we do and how we do it.
Another exciting thing I have been able to end my week with is that I have just been told that my certificate for my apprenticeship is ready for collection! And I'm excited to say that I intend on developing my skills in this field further and achieving more qualifications.
And that's what's been going on this week! Have a great weekend in the sunshine everyone!