Hello everyone.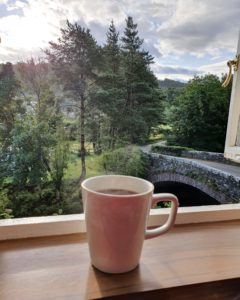 I hope you're all doing well and staying safe in these stressful times. Over the last few weeks I've been focusing on my mental wellbeing as I've had a lot going on in my personal life. I've been spending time doing things I enjoy for selfcare, in particular I love creating artwork, reading, watching movies and spending time being mindful making/drinking a cup of tea.
As well as taking time to do selfcare in my free time, I'm also finding small moments to practice some selfcare during the work day. One thing I miss about working in the office is having a catch up with a cup of tea during the day, so I now have a cup of tea and a few minutes away from the screen every few hours. I think it's important to spend a few moments each day doing something that makes you happy, even if it's only for 5 minutes of the day, because that's all it can take to turn your bad day around.
I've been spending time this week working on our imagery for our coproduction strategy, we've been working hard with you to create imagery that represents your vision of what coproduction looks like. I've also virtually met up with the H.A.Y Peterborough team to discuss how we can support each other in promoting positive mental health and the different support you can go to should you need it.

H.A.Y. Peterborough's brand new website is bringing together everything in Peterborough that promotes positive mental health. From a friendly 'how are you', to activity groups and much more – it's all taking care of our mental wellbeing. Mental health isn't something that is good or bad; it's a continuum, a sliding scale, a constantly shifting state for each and every one of us. The website features loads of activities and courses you can take part in the maintain and improve your wellbeing.
How do you like to look after your mental health? Share your selfcare tips with us on our facebook and twitter!
Stay safe!