Hello everyone, it feels like it's been quite a while since my last blog post on here; and a lot has been happening!
Last week we held our virtual AGM (annual general meeting) and I just want to say a massive thankyou to everyone who came along to celebrate our successes and hearing some of our amazing people of lived experiences and their stories about working with us. Overall it was a very positive meeting and was a great way to end a Monday!
Here's a screenshot of our happy faces: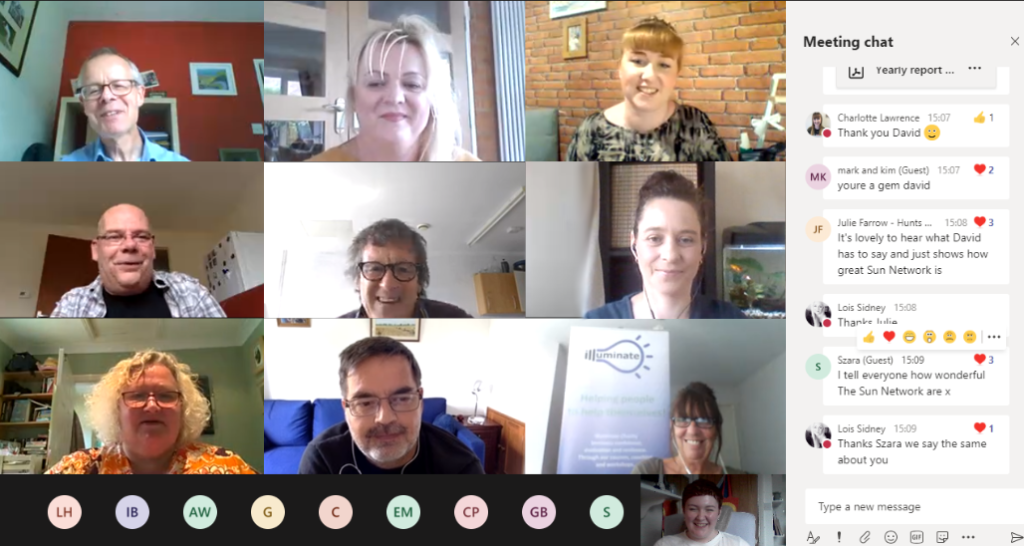 Hearing how the SUN Network has helped make change in a range of services and has helped service users have their voice heard made the meeting feel so positive and reminded us of how important our work is.
So, what else have I been up to?
Well, over the last week or two I've been gathering feedback on the all ages Keep Your Head website, as we have had some feedback in the past that it can be hard to navigate. So, we are asking you what your experience using Keep Your Head is like, and what you would like to see from the website and how it can be improved to make it more user friendly. In August we're holding a workshop to further gather feedback and to hear what you would like to see improved with the site, if you'd like to join us, you can sign up here!
If you would like to give feedback online on Keep Your Head, you can do so here!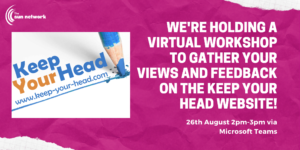 What else have I been up to?
In my spare time I have been taking some time out to focus on some selfcare as my personal life has been quite stressful with family in and out of hospital and my own struggles as a spoonie (spoonie is slang for someone who lives with a chronic illness). Something I have noticed for myself is that when I'm starting to get stressed, my sleep pattern changes and I struggle to get enough sleep; so one thing I've been using a lot more often is meditation before bed and sleep sounds.
When my mind is going round and round and I can't get comfortable I found that taking 10 minutes to just sit or lie down and focus on my breathing can help me fall asleep a lot faster than tossing and turning for hours. I use a few different apps to manage my mental health, and one I use for sleep sounds is 'Sleep Sounds' where you can customise the sounds; for example, if you like thunderstorms you can have that playing and then add in other sounds at different intensities. I also like this for when I need to focus on something as this acts like a white noise machine for me.
For meditation I like guided mediations as they keep me focused on my breathing and relaxing my body and mind. If you want to try out a guided meditation for 5 minutes, check out the video below, I found it great for starting my day!
And if you're looking for a meditation to end the day with and help you get to sleep, I've put another one you can try out below!
Other than listening to meditations, I also love putting on a positive playlist and having a little dance around – I may look silly, but it's a great way to de-stress and have some fun. I'd love to know what your favourite songs are to dance around to and that bring a smile to your face so I can put them in a playlist that I can share with you all! Comment them below, let us know on social media (@SUNNetworkCambs) or email us at enquiries@sunnetwork.org.uk!
As always, you can give feedback on your experience with mental health and drug and alcohol services here and help improve those services for everyone using them.
Have a great rest of the week and weekend!