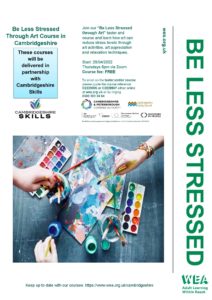 "Be less stressed through Art" taster and course 28/04/2022 Ref: C2228806 and C2228807
A practical session learning about reducing stress levels through art activities and relaxation techniques. In a safe and supportive atmosphere we will find out which art activity students enjoy and what could help them to destress. We will also practise simple relaxation techniques using breathwork exercises and mindfulness to help us relax further.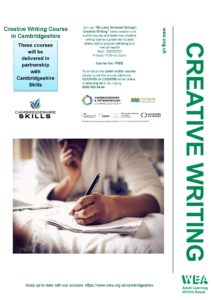 "Be Less Stressed Through Creative Writing" taster and course 25/03/2022 Ref: C2228782 and C2228785
During these sessions we will identify what stress is, what can cause it, and how we can use creative writing to manage stress, support our wellbeing and improve resilience. Each week we will participate in a short, engaging creative writing exercise as well as sharing and group discussions centred around beating stress.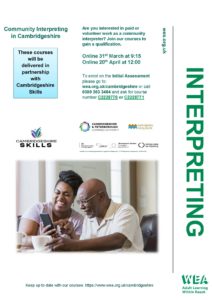 "Community Interpreting Pathway" 31/03/2022 Ref: C2228770 or 20/04/2022 Ref: C2228771
For anyone who speaks more than one language and is interested in paid or voluntary work as an interpreter. During the initial assessment session we will discuss your skills and experience with you, talk to you about the courses available and ask you to complete a task to see which course is right for you. We will talk to you about our courses and provide you with information about the work you will need to complete during your studies.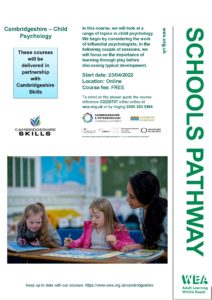 "Child Psychology" course 23/04/2022 Ref: C2228787
This course is an introduction to child psychology. In this course, we will look at a range of topics in child psychology. We begin by considering the work of influential psychologists. How have their theories helped us to understand child development? In this session we will also consider attachment theories. In the following couple of sessions, we will focus on the importance of learning through play before discussing typical development, using as our example, speech, language and communication milestones. We then consider our contemporary understanding of aggression and challenging behaviours in children.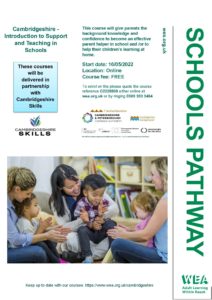 "Introduction to Support and Teaching in Schools (Level 1)" course 16/05/2022 Ref: C2228800
A short, online course to find out how to support children's learning. The course will give parents the background knowledge and confidence to become an effective parent helper in school and /or to help their children's learning at home.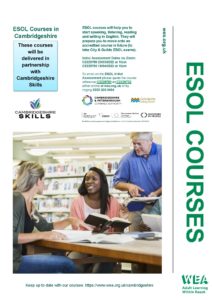 "ESOL (English for Speakers of Other Languages" initial assessment sessions 23/03/2022 Ref: C2228789 or 19/04/2022 Ref: C2228792
Students wishing to join an ESOL course need to complete an initial assessment before they start. The initial assessment event is designed to test students' current English skills. During initial assessment, students will work with WEA staff to agree the current level that they are working at and discuss the best course for them to develop their skills.