Last weeks bank holiday has made this week fly by! So, what's been going on?
Well, this up coming Saturday is Overdose Awareness Day, so we've been doing a lot of work to promote the good work that several organisations do within drug and alcohol services. There's several events happening over the next few days so make sure you check our Facebook and Twitter to keep up to date with what's going on!
My colleague K.C. and I have also been busy creating a video illustrating how trauma affects our ability to cope with extra stresses and mental health challenges. You can check out the finished video below!
In other news, this week we've also been promoting our Winding Road Project, so I've been creating images, posters and promotional materials to help spread the word about the work we're doing. What do you think of some of the images we came up with? (See below) We intend to follow people's journeys over the course of a year with 3 chats throughout to see first hand if people are getting the support they want when they need it. You can download a poster to display inviting people to join us here.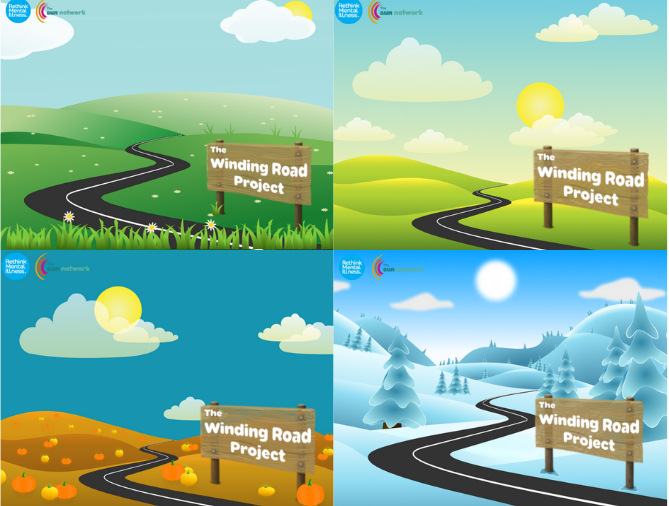 If you've been following us over here at The SUN Network for a while you'll know that I'm an apprentice here, so part of my time this week was spent working on my college assignments, and being a very motivated person who loves learning, I like to stay on top of my studies! I also maintain the all ages side of the Keep Your Head website which is a central hub for all things mental health, and acts as a local directory of all the services and helplines people can turn to for support.
This week we've also started a little competition in exchange for the incredibly valuable feedback we get from you. By giving feedback to us based on your experience with mental health and drug and alcohol services you're helping to shape the future of those services for the people that need them.
To give confidential and anonymous feedback on your experiences with services in Cambridgeshire and Peterborough and be in with a chance to win a £20 Costa voucher, click the button below! (winner will be contacted on the 30th September!)
We're also running a Q&A session with our amazing drug and alcohol commissioner Susie in September, and we'd love to know what question(s) you'd like answers to! These can be anonymous or you can leave your first name to be read out, the choice is yours! Let us know your questions with the link below!
Have a great day everyone! – Vickie 🙂