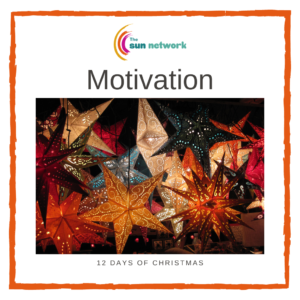 On the First Day of Christmas I choose to give myself the gift of Motivation!
What is my why? What motivates me to be the person I am or pushes me to become? Now is as good time as any to take a few moments to raise my awareness on what motivates me. Motivation is important as it gives us that push that we sometimes need, to get that project started or start that walk or have that conversation. Having things that motivate me can help take me out of my comfort zone and into the world of discovering things. As the year draws to a close, I will motivate myself to set goals for the year ahead, look at all that I have done through this year and set motivational tasks to keep me well and inspired.
'Life begins at the end of your comfort zone' – Neale Donald Walsch
---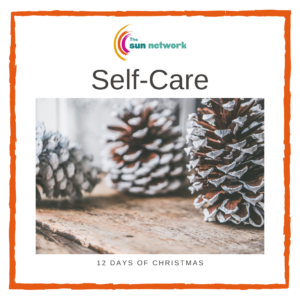 On the Second Day of Christmas I choose to give myself the gift of Self-care!
The word self-care gets thrown around a lot nowadays, but what exactly is self-care? The definition for self-care according to the Oxford Dictionary is: 'the practice of taking an active role in protecting one's own well-being and happiness, in particular during periods of stress.'
Self-care is different for everyone; for me, there's small forms of self-care that I try and use in my everyday life to manage my mental wellbeing. I like to look after my mental wellbeing by taking a few minutes each day to do things like:
Making myself a cup of tea in my favourite mug
Making time for my hobbies
Talking with a friend
Getting an early night's sleep
Taking a break from social media
Listening to music that makes me happy
Putting on an outfit that makes me smile
Self-care hasn't got to be complicated or time consuming if you don't want it to be, it can be as little as taking 5 minutes out of your day to relax, spending an extra few minutes taking some deep breaths in the shower or treating yourself to your favourite meal. Find what makes you happy and works for you.
What's something that you do during the day because it brings a smile to your face?
---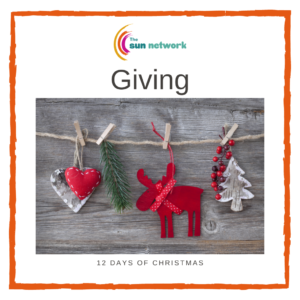 On the Third Day of Christmas I choose to give myself the gift of Giving!
Giving not only feels good to the receiver but also to the giver. It is important to give only what you can afford. Often during this time of year, I feel obliged to spend more than necessary or over exhaust myself trying to please others and this can be a lot of pressure. Instead of doing this I am going to be selective in how much I give away and my reasons for giving. Its nice to be nice and to give, but I must remember my time and money is precious too. I do not have to get every single person I know a present, as it soon adds up. I am going to make personalised cards instead. There are other options like I could make gifts, spend time with loved ones or volunteer if it is safe and you are able to do so. This way I am still giving without the pressure and expectations of the festive period. It is a more meaningful experience for all involved and I will be able to focus on what matters, the family and friends around me.
'You can always give something, even if it is only kindness' – Anne Frank
---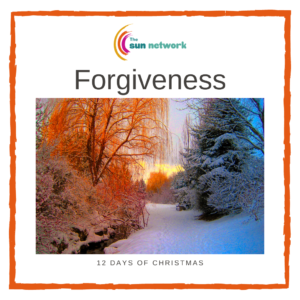 On the Fourth Day of Christmas I choose to give myself the gift of Forgiveness!
This year has been unlike any most of us will ever experience. It has shown me that something unknown can come into my life and completely change it from everything I've ever known. So that is why I choose forgiveness as a gift. I can forgive and let go of what is holding me to harder times and move on lighter for it. I will be selective with what I am holding on to, if anything. It can be exhausting to hold on to painful things so I will decide what is worth my time and effort and let go of what is not. It is easier said than done, but once I forgive things or people, I can move forward in my life, being freer to explore and feel.
'Forgive others, not because they deserve forgiveness, but because you deserve peace' – Jonathan Lockwood Huie
---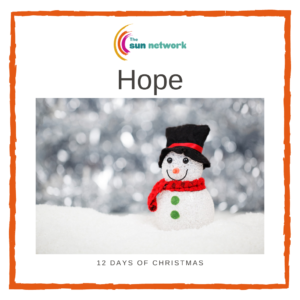 On the Fifth Day of Christmas I choose to give myself the gift of Hope!
This is a tough one when we are struggling. On a good day I can see hope everywhere and I can be optimistic about all sorts of things. On a tougher day, even the things that are brilliant can seem tainted and grey.
So how can we find hope? One place to start is by looking back at what's worked for you in the past. Do you get inspired by talking to one or two great friends who make you laugh or do you watch a favourite program? Do you read something that makes you feel better, or maybe it works best for you to write down on paper your own thoughts, feelings, hopes or frustrations?
Some people find hope in the inspiring lives of people who have made the world a better place through their lives. You might get inspired by a story of someone overcoming adversity. Or maybe hearing someone who realised their dreams encourages and buoys your spirits.
Creativity is a great way of unlocking hope, and I don't mean just the few who can draw or paint well. If you play a musical instrument, if you make things with your hands, solve problems, organise or can find any way to make a little mark–that's being creative!
A large portion of the world's population finds some kind of spirituality to be meaningful to communities and individuals. There is more to spirituality than following rules and there is more to religion than being a good person. Some even believe that spirituality is connected to the cause and solution the mental health we seek, including, but not limited to addiction: https://www.youtube.com/embed/R0JKCYZ8hng
---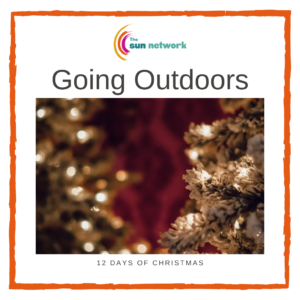 On the Sixth Day of Christmas I choose to give myself the gift of Going Outdoors!
Some are fed up of walking, as it's been one of the main ways to take care of our mental health during covid. But a good tradition during the holidays is still going for a walk. What better way to fight the guilt of overeating? Walking off the Christmas pudding or to feel good after that extra portion of stuffing.
When my lifelong partner and I first met, my idea of a holiday was to lie on a sunny beach with a book. Her preference was walking up a hill in the north of England. When our children came along, she 'won' as kids are better with being active. Over the years I shifted from trying to hide my annoyance, to grudgingly learning to enjoy the experience. I watched how my family enjoyed the exercise and somehow learned to appreciate it myself.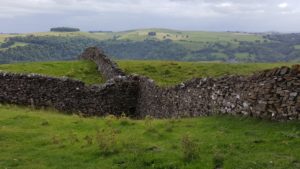 Now I'm learning that there's a lot of evidence showing that being outside in the fresh air, walking or doing some kind of exercise is healthy for our mental well-being, not just physically. A study found that…
those who walked in nature experienced less anxiety, rumination (focused attention on negative aspects of oneself), and negative affect, as well as more positive emotions.
Finding a way to break out of the cycles of negative thoughts is key to improving our mental health, (not limited to finding recovery from addiction, depression, etc.).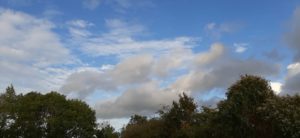 Stirring positive emotions is exactly what we need as well. Is there a field near you that you can walk along? Is there a park with a patch of grass you can enjoy? Why not find a window and watch the clouds go by and do it as an experiment to take care of your mental health.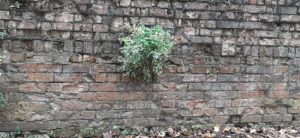 Going outside is good for the physical part of our minds: our brains too.
There are upwards of 20 reasons why just getting outdoors is good for your nervous system, your brain, your attention, your relationships.
A new report reveals that exposure to green-space reduces the risk of type II diabetes, cardiovascular disease, premature death, preterm birth, stress, and high blood pressure, according to a study done by our own University of East Anglia.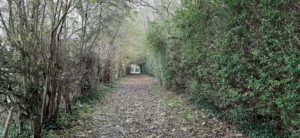 The Cambridge Cyrenians have found this to be true first hand. Their allotment project brings gentle therapeutic exercise, rewarding work with tangible results, relaxing in nature and it helps reduce isolation too. https://www.youtube.com/embed/hz2xH1Go8WQ
---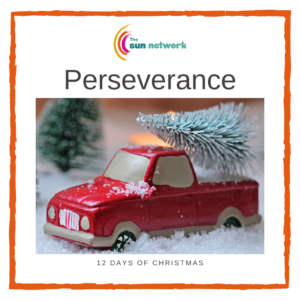 On the Seventh Day of Christmas I choose to give myself the gift of Perseverance!
It's not the sexiest sounding thing, but it makes a big difference to happiness, contentment and satisfaction–something I'm sure we'd all like for Christmas.
I was raised with a saying, 'If something seems too good to be true, then it probably is'. And the idea of an easy diet where I can eat my favourite food and watch the weight fall off sounds too good to be true. So, I can guess that and other similar fad diets and get rich quick schemes are all too good to be true.
With my health, it's similar, there is no such thing as a magic pill to take away all my health problems. Of course my doctor might prescribe me some antidepressants to help manage my moods while I work on sorting out the underlying problem. But if I just take medicine and do nothing else, especially for years, eventually I will have new problems stemming from taking the prescribed drugs. I'd be interested in whether your doctor has another view.
Wanting a magic solution is something that advertisers have known for years and they capitalise on this desire regularly. This is a normal part of child development, as most children fantasize they can wish something into existence. But as an adult our imagination and fantasy can confuse us if we misunderstand hoping for something when it's time to work for it. Magical Thinking is a term that applies to children wishing for a pony and hoping it'll appear as well as OCD activities (i.e. thinking locking a door several times will keep me safe). For help with many mental health challenges, try the phone numbers/websites of servicies in our county listed here.
So, I need to persevere to overcome my addiction or my mental health challenges. If you are one of the lucky ones who don't experience mental health issues, great. Maybe you already exercise plenty of perseverance. I think we all can benefit from your encouragement and support to persevere. But I will keep reminding myself that I need to persevere. Most of the worthwhile things in life need work to either get or keep. Has life taught you (maybe the hard way) that things don't always go to plan? We'd prefer life to be one amazing experience after another high, on top of another victory. But it's actually more like this, if we're lucky:
If you feel you can't carry on, please don't give up. There are a wealth of places where you can find people to listen. Samaritans is a group of people who are on the other end of a free phone-call and email 24 hours a day, 7 days a week.
Even during the covid-19 lockdown, CGL, Change Grow Live, offers harm minimisation to help avoid blood born viruses and stay safe. Life saving naloxone and clean needles are available around our county, as is expertise and support amongst non-judgemental professionals. If you live in Cambridgeshire, ring CGL for more information and help recovering from substance misuse (addiction) on 0300 555 0101 or email cambridgeshirereferrals@cgl.org.uk, as listed on their website. In Peterborough ring CGL Aspire 01733 895624.
---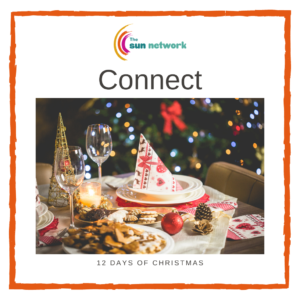 On the Eighth Day of Christmas I choose to give myself the gift of Connecting!
This has been a trying year for most (if not all) of us, and with Christmas coming, a lot of us are wishing we could be spending more time connecting with our families right now. Because of the pandemic, Christmas this year is definitely going to be a bit different, but that doesn't mean we still can't connect with those we love and care for. I have family at both ends of the country, and I'm slap bang in the middle, which means family get-togethers usually happen at my house, but since that hasn't been happening this year, we've been calling and video chatting each other a lot more.
Connecting with one another is so important, especially in these times, so making an effort to check in with one another regularly is a great way to remind each other that you're thinking of them. Nowadays there's a huge range of ways you can connect with one another, even if you can't be there in person; there's phone calls, video calls, social media, watch parties (on Netflix and Facebook you can watch shows and movies with others online), play online games and so much more together. And if online forms of connecting aren't for you then why not send a handwritten letter or something as simple as a Christmas card! This year I'll be sending out even more Christmas cards than before, and I've also been teaching my grandparents (over the phone) how to video call so we still see one another and have Christmas dinner together.
And don't forget, even if you feel that you haven't got anyone you can talk to and connect with, there's loads of helplines you can call for a chat with someone. You haven't got to be in crisis to call a helpline, they're there to listen to you and connect with you, regardless of what you've got going on.
---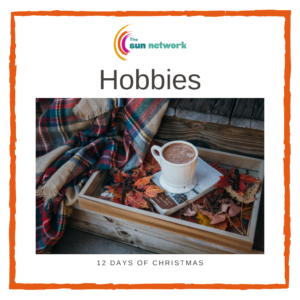 On the Ninth Day of Christmas I choose to give myself the gift of Hobbies!
Ok, so this year has been a bit of a rollercoaster for most of us, with some of us having more free time than before and others a lot less due to the two lockdowns and changes with how we work; that's why, this year I'm giving myself the gift of Hobbies. In particular, giving myself some time to practice my hobbies.
Hobbies are a nice way to unwind at the end of the day (or for starting the day too!) and they're a great way to distract yourself from everything else that's going on and have some fun. I like to spend time in the evenings with a sketchbook and some noise cancelling headphones, spending some time relaxing and drawing/painting/scrapbooking without any pressure to make a masterpiece, just to enjoy some time being mindful and creative with music I like.
There's such a huge range of hobbies you can try out at home; here's a few ideas:
Create some art
Try cooking or baking something new
Try upcycling something old or used
DIY something
Try a new way of exercising
Learn a new skill
Have a quiz night
Try indoor and outdoor gardening
Try your hand at air dry clay modelling
Try sewing something
Read some new books
Play video games
Do a jigsaw
All that matters is that you're trying something new and having fun, and who knows, you might even find a new skill or hobby in the process!
---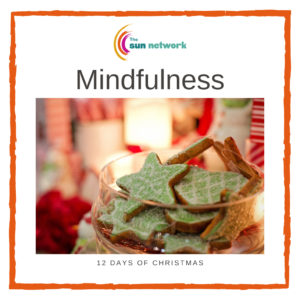 On the Tenth Day of Christmas I choose to give myself the gift of Mindfulness!
What does stillness /silence mean?
I chose to write about stillness / silence because it is something, I have always known is important but always struggled to master for any length of time. I have this image of myself that one day I will have a presence about me that will be empowering and full of calm and collectiveness. To be honest, most of the time I feel chaotic, busy in my head and only just getting by. But it is something I always try to keep in the forefront of my mind or come back to, to try and practice. But what does it mean to find stillness and silence? Do you have to shut yourself away from everyone and everything so you can't hear a thing? I don't believe so. For me it is a moment within me. I think it is very much attached to those moments of happiness and gratitude. It is very much about being present in the moment, being in the now.
Why is stillness / silence important?
When I take time to find stillness and silence in a situation or moment, I find it brings a moment of contentment. I feel a space of calm within me is created and in that moment I am just me, nothing else intrudes, I'm not thinking about what is coming next, or what I have to do, or of the things I worry about. I am not thinking of what has already been that I can't change. I just am. Those moments of stillness and silence for me usually occur when I stop rushing around, jumping from one thing to another without really acknowledging what I am doing and truly see. It could be a moment that made me laugh or on a walk where I hear the wind through the trees.
How do we practice Stillness / silence?
How can we practice stillness / silence? There are many ways and I guess; it is finding a way which suits you. I have tried meditation, and this helped me a lot. There is also mindfulness which can be a very effective way to start. I simply try to remember in those moments of gratitude and happiness to really see and feel what is in front of me. I try to remember to go from doing to being. Feeling the stillness within me brings a moment of silence.
---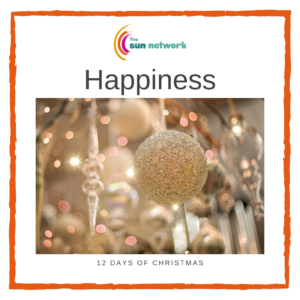 On the Eleventh Day of Christmas I choose to give myself the gift of Happiness!
What does happiness mean?
This is a huge question and has been attempted to be answered by many philosophers and psychologist. Therefore, I am not going to try and answer it because happiness is very personal. It is different for everyone. Happiness can come at any time, through anything. For me, some of the thing I find happiness in are my garden and allotment, my 3-year old boy and being outside.
Why is happiness important?
Finding and recognising the things that makes me happy is so important. When I am happy, I think clearer, I am more motivated to strive forward and achieve the things I set out to do. I feel healthier when I am happy, probably because I eat better, I am more active, and I achieve more things. I definitely notice my happiness rubbing off on others when I am around them and vice versa.
How do we practice happiness?
When I am feeling low I find it so hard to motivate myself to do anything. But always my best starting place is being active. Going for a walk around the village or in the woods, doing some stretches. This is my catapult to the beginnings of making change to enable me to feel happy. The more physically active I am, the more motivated I am to eat better. My energy levels rise, and I feel I am able to achieve more things that I enjoy doing. What I do won't suit everyone but being able to identify what the first step needs to be for you is really important.
---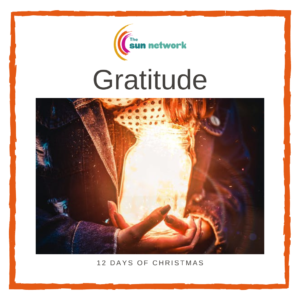 On the Twelfth Day of Christmas I choose to give myself the gift of Gratitude!
What does gratitude mean?
Gratitude can be an appreciation and thankfulness towards people, life and the world we live in. We can be grateful for the things we have, for what someone has done for us, for the people we have in our lives, for a moment we experience, the lessons we learn, a place we may visit or for nature; anything really but it comes with the understanding that what we are grateful for is perfect as it is, that it needs nothing more or less. And by having gratitude, it can evoke feelings of warmth, happiness, contentment, and simplicity.
Why is gratitude important?
Experiencing and giving time to recognise things to be grateful for helps me feel more positive emotions, relish good experiences, accept things for what they are until a time comes when they can change.
For me, showing gratitude enables feelings of greater happiness, it enables me to cherish special moments, it takes away worries for tomorrow and thoughts of the past. It enables me to be more present in the here and now, to see what is front of me and be absolved from my head.
How do we practice gratitude?
There are a couple of things we can do to acknowledge the things and the people we are grateful for in life. They do not need to be big and often it is the little things that happen each day that we easily miss. A neighbour saying hi and asking how you are or someone stopping to let you cross the road.
You could try these ideas:
Each day think of one to three things you are grateful for
You could write each thing down on a piece of paper, fold it and pop it in a jar.
Or…you could start a journal, writing down each thing you have recognised to be grateful for
Practice gratitude rituals. Saying out loud, before you go to sleep what you are grateful for that day
It is also a great pleasure after a period of time, or in those low moments to empty the jar or open the journal and read all the things you have been grateful for. It is also a lovely way to remember special moments in your life.
---
Happy Christmas from all of the team here at The SUN Network!