Porn and Sex Addiction Training
Porn & Sex Addiction training is an informative 3 hours course with insights from real life and research from some of the latest thinking about addictions relating to sexuality. Click here to book our online June 2022 session of this training and click here to book our evening autumn slot for 2022 on Tuesday 25th October 6:30pm London time. 
Some tickets are available to join online via Zoom or in person with KC at the The Hayman Room, the Edge Cafe, 351 Cambridge, Mill Road. You will be sent your own 3 hour CPD (Continued Professional Development) certificate after attending regardless of whether you join online or in person in Cambridge.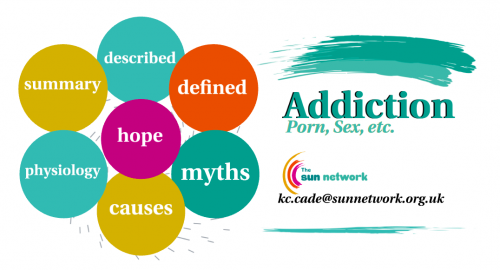 In this interesting and interactive course we define addiction while exposing many misconceptions around porn and other compulsive behaviours related to sex.  Brain science and theories of evolutionary biology reveal how addiction starts with a natural human attraction to reproduce which has gone awry due to early emotional and developmental neglect and trauma. Because this training is written and delivered by a professional with individual experience in this form of addiction, attendees will hear descriptions of what it feels like to be trapped in this cycle of shame and obsession where sex becomes increasingly used to try to manage emotions.
KC shares snippets from his own story of addiction, how his recovery has progressed, and the lessons he learns that helps him and others in daily recovery. Epigenetics, the science of the changes that happen in the neuro-network of our brains, shows the science that this deep and chronic physiology in addiction can be improved, building new habits, rewiring the addicted brain, and finding recovery from addiction.  We list where can people find others on this journey, learn from them, to draw strength from each other and find hope.
The course is based on the latest understanding of addiction and neuroscience, backed and complemented by real life experiences of addiction and recovery.  Time is given for questions and and contributions from attendees to learn from each others' experiences–professional, volunteer, and others.
Quotes from attendees of our training
"KC was fantastic, knowledgeable and enthusiastic. The actual tech and content of the presentation was also brilliant. The three hours were very well spent."
"I attended online and it was full of really interesting facts which were backed up by KC's own experience and passion. The tone of the training was one of kindness."
"KC was a super trainer. His personal experience and vulnerability made the training so much more valuable that it might otherwise have been."
"I received a great welcome. Felt it was a safe space, that was set up well from the beginning. KC put everyone at ease and all in all it was excellent!"
"I could listen to KC teach all day long!"
"I enjoyed the training and what made it engaging was you being open about your experience, giving context to the content and subject matter."
"KC was really knowledgeable and the training flowed well. People were saying that they had learnt a lot."
"I really enjoyed this training. KC was so knowledgeable and the training was delivered so well at such a good pace. I had loads of questions and KC was really responsive to the audience"
"The pace was good, the graphics and presentation were second to none!"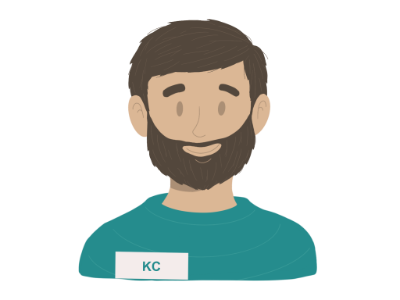 About KC
KC works on his own recovery, mentoring others to recover, drawing on his own experience of recovery after 25 years in active addiction. Plus he learns by researching as well as talking to others in addiction and colleagues who work in the mental health and addiction recovery field. KC enjoys teaching, raising awareness, challenging stigma and giving a voice to others who have experienced these challenges.
Nothing is better than face to face interaction for communicating.  It gives the richest learning experience and makes it easier for us all to learn from each other.  But with traveling and covid challenges, our courses are offered in both formats: online and in person.