Hello everyone, I don't know about you, but it feels that after January that seemed to be never ending, February is flying by. Suppose that is a good thing, bring on the longer brighter days I say!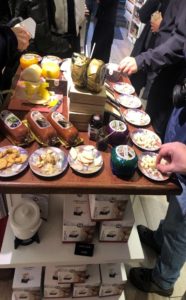 It has been a while since I did a blog, just over 3 months to be precise and we have gone into a whole new decade since then. As always, we are up to many amazing things here at The SUN Network so let me catch you up with what I have been up to recently.
In January, I was lucky enough to go to Amsterdam for a long weekend, which I am calling my honeymoon. It was such a beautiful city and amazing to explore it with my Husband, that's how I want to start all my new year's, on holiday. It was lovely to eat new foods, learn the history of such an amazing place and relax. (The Cheese part of the food tour was our favourite😊) Where too next, any suggestions?
KC and I kick started our 5 Values project with Change Grow Live (CGL) and have since been receiving a lot of feedback, which is just what we were hoping for. We have a group of peer assessors on the project with us and it has been wonderful to have them as a key part of this project as we go around Cambridgeshire talking to service users who are accessing CGL's services.
This week it was Vickie's team time, so we all took to blank canvas' and let our minds run wild. It was lovely to spend time together as a team because although we are only a small team it is hard to have all 5 of us in the office at one time, so this was nice. I am quite proud of my creations if I must say so myself. I've never done crafts, but I think this is something I need to allow more time for in my life, it was wonderful being mindful and allowing my creative flow to just happen. It would be great to hear from you all about crafting ideas you have done to help you be mindful.

I was asked to be on an interview panel for a new eating disorder commissioner, so I was able to ask questions around service user involvement which was a great experience. I am also on another panel this week for a mental health commissioner so I will be able to ask questions around service user involvement and co-production.
Finally, I shall end on some positive news. My job was posted for one-year contract when I applied, that year would be up this April 2020, however I have just received the good news that I can stay for another year. I am so happy and lucky to be able to continue my work at the SUN Network. A special thank you to all of those who I have encountered since being with The SUN Network and I can't wait to see what this next year brings.
Go easy on yourself and trust the timings of your life.