Hello everyone,
It has been too long since my last blog- and so much has changed! I am coming up to being with The SUN Network for 18 months, I started during the pandemic working from home as a Co-Production Facilitator, and at the beginning of April 2022 my role has now changed to Older Adult Mental Health Engagement Facilitator. As much as I enjoyed my previous role and the involvement, I had with individuals experiencing multiple disadvantages, I welcomed a new challenge and 1 month in I am really getting to grips with understanding the mental health services designed to help those over 65.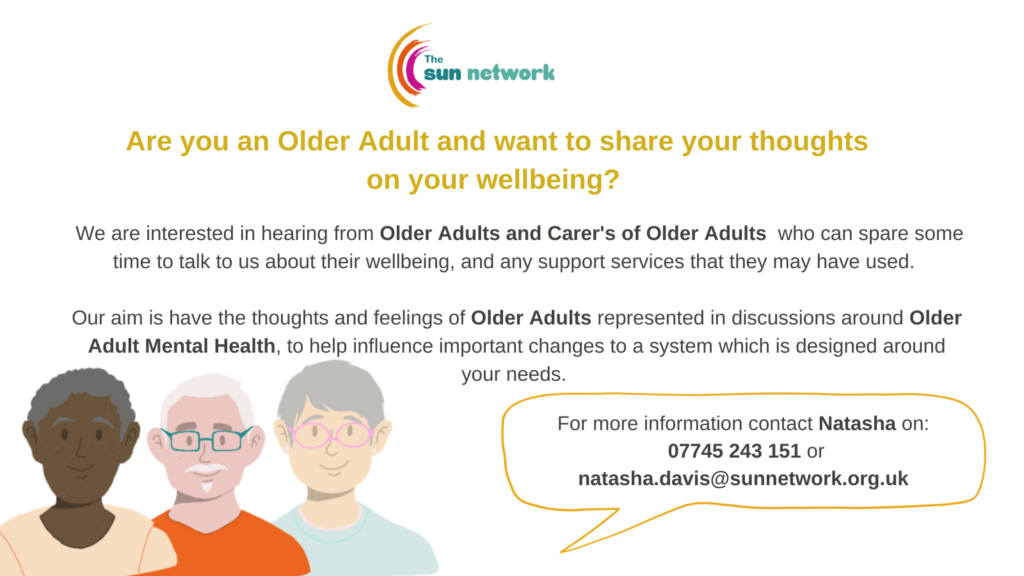 I am learning a lot about what services are available to older adults, for those with mental health problems as well as those who care for them. I am aiming to share these with you as much as I can via social media, and in person when I am out and about. I have already attended a few different meeting and events in person, and it is such a refreshing change to meet people in the flesh and enjoy their company! I am always keen to hear from more older adults about their experiences with mental health, so please feel free to give me a call or email if you want to have a chat.
As those of you who have read any of my previous blogs will know I am someone who suffers with anxiety and stress, and even though I am quite open about this- it still doesn't stop me worrying. I have come across an app which I would like to share with you all, it's called Worry Tree. This app is designed to manage your worries and anxieties through CBT (cognitive behavioural therapy) and it has a free version. The basis is that you write your worry down, categorise what part of your life it is about and then make an action plan on how you will deal with it and when (there is even an option to set a reminder).
I like the simplicity of the idea, as I always find writing things down helpful- even if it is just writing a list of things to remember. By recording your worry and thinking it through by answering short questions it is giving you an outlet, and space to process. This could cause you to overcome your worry by realising that it is easily solvable, or that you have now recorded your worry to come back to at a later time- with that helpful reminder on when to deal with it! There is a paid version which you can trial for free for 7 days, and it seems to include additional features such as a journal. I also came across their website where you can download a printable journaling page if you prefer the pen to paper method.
If you try this app please let me know your thoughts!
Best wishes