Hello,
How are you? Time for a catch up on what I've been up to recently.
In my last blog, which you can read here, I mentioned I had started contacting individuals that have been given a Personalised Care and Support Plan for their feedback. I have been in full swing doing this, sending out links to the survey and speaking with individuals over the phone which has been great. It's really good to hear from individuals that are using these plans to see how the plans could support others that may need them. Following on from some of the feedback we got, we have decided to do two follow-up surveys to see if and how the plans have made a difference to those using them. I am only part of the way through this feedback stage of the project, so I am keen to keep going.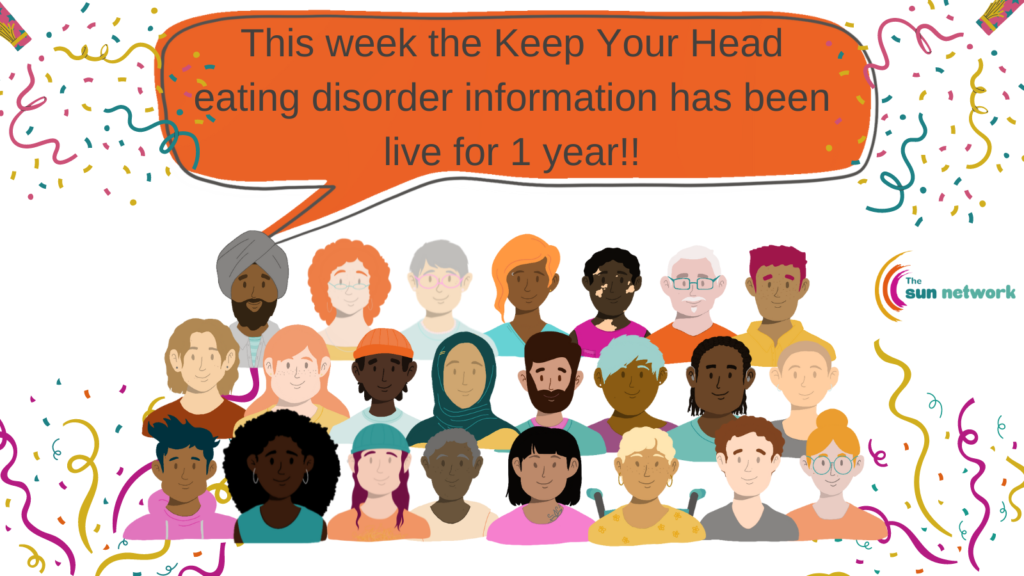 It has been one year since we went live online with the eating disorder information on www.keep-your-head.com. That year flew by. It feels like it was just yesterday we were meeting individuals and carers with personal experiences of eating disorders to discuss the work and now we're celebrating the information being available for a year. In the past year, NHS England have recognised this work as an example of best practice in co-production. Kent and Medway Clinical Commissioning Group, and Bristol Health Authority have approached us to use this work and adapt it for the support available in their local area. We have filmed seven individuals sharing their personal experiences of their eating disorders, which have been viewed by hundreds of people. If you haven't seen these yet or any of the eating disorder work we created, click here. We have been involved in other aspects of the eating disorder services such as a medical monitoring leaflet and eating disorder services pathway video. So, as I'm sure you'd agree, a busy year for us and the eating disorder information.
I am so proud of the eating disorder work. This was the first project I led on, so as nervous as I was, I was put right at ease by the amazing passionate people who I had the privilege of working with. I am still grateful to be in contact with these people, who made the whole experience so much easier for me. It was great that everyone came together to hear the voices of individuals with lived experience and to create such a useful resource that will hopefully continue to help those that use it. I think about the challenging times I experienced during my eating disorder and how useful this information would have been then. Knowing that it is now available and possibly helping others gives me hope that they might get the help and information they deserve sooner. I am honoured to have been a part of this vital work that received such positive acclaim. It's a 'pat on the back' moment. 😊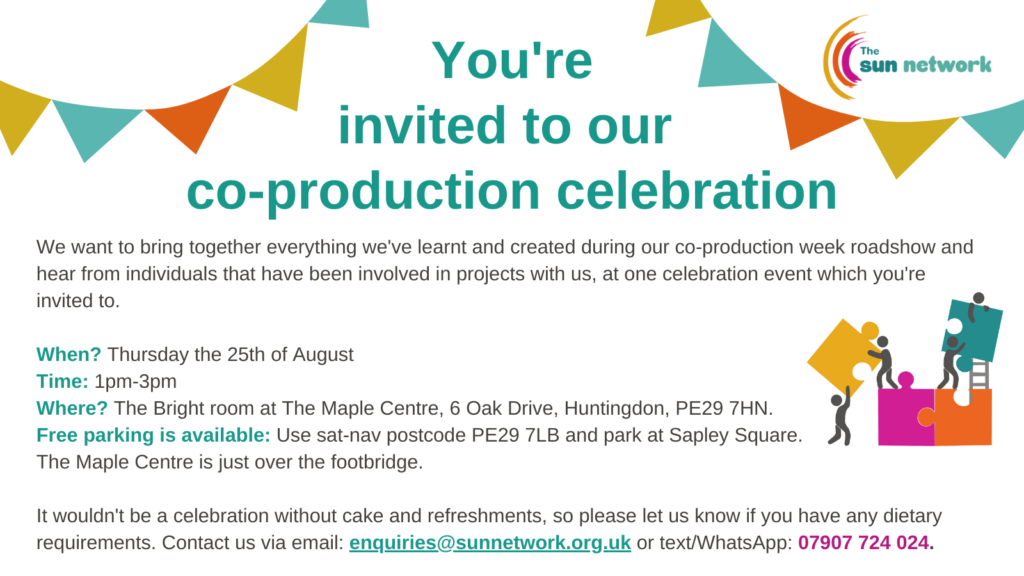 We also have our co-production celebration event coming up this month. It's on the 25th of August and you're invited. It'll be a chance to chat about co-production, find out more about it, learn how you can be involved in what we're doing, hear from people that have been involved in co-production, get creative about what co-production means to you, chat with others and of course…have cake. The picture has more information so hopefully you'll be able to join us. Please click here to book a free ticket, this way we'll know how many people are coming.
I have been working with the team and individuals with lived experiences of mental health challenges, to create our new SUN Network information leaflet. We had a workshop where we looked at our old leaflet to get some ideas for the new one and are currently at the design stage. It is really important to share how people might get involved, as there are so many options and benefits to it. We really want to empower people and highlight the impact your voice can have. So, if you have any experiences of working with us and want to share that with us then please do. Email charlotte.lawrence@sunnetwork.org.uk or text/call or WhatsApp 07907 472 024.
Personally, I'd love to say since my last blog everything is on the up in my wellbeing, but that wouldn't be truthful or real. I want to work on myself to help me grow towards a more self-accepting place because from there I can continue to grow towards loving myself more, being kinder to myself, and being more honest with who I am. But this isn't easy and lately I've really struggled to see the light through the trees. Even working in mental health, and with all the understanding and support I have around me, I found that I was slowly disconnecting from my surroundings and experiencing a really challenging time.
I often feel disconnected from my feelings, but I am learning that this is a protective thing we do as humans. When things feel too much to deal with or are too painful to look at, we sometimes put them away in a box and try to forget about them, but this doesn't actually deal with the problem. I have been shutting down my emotions through fear of not knowing what they are, or why I am experiencing them. While I can say I am aware of this now, I cannot say it will be easy to address. This is a coping mechanism I have learnt and will be something I need to actively unlearn and change for healthier coping mechanisms. But I am human. I can only do so much at any one time. So sure, sometimes I will feel ok, sometimes I really won't. I might read all the self-help books and go to therapy to speak about what I'm going through, and I might also take some time to be quiet and take my mind off the heavy stuff, because I don't always have the strength to work through things. I know I am trying. I am trying to be kinder to myself however possible. So not giving myself a hard time if I need to ask for a day off because my mind is overwhelmed, if I cry or laugh, if I make mistakes, or if I am not being mindful. Kindness is a good place to start towards feeling better. Little by little, bit by bit. Small steps are still steps, nonetheless.
Ways I've found piece recently from the noise in my mind:
Reading No Such Thing as Normal by Bryony Gordon
Going on walks, part of a 25mile challenge for August that I'm doing. Good excuse to get outside and exercise in a way that doesn't punish my body but empowers it
'Sometimes when you're in a dark place, you tend to think you've been buried, what if you've been planted?' – Anonymous.
Take care of yourselves.
Until next time,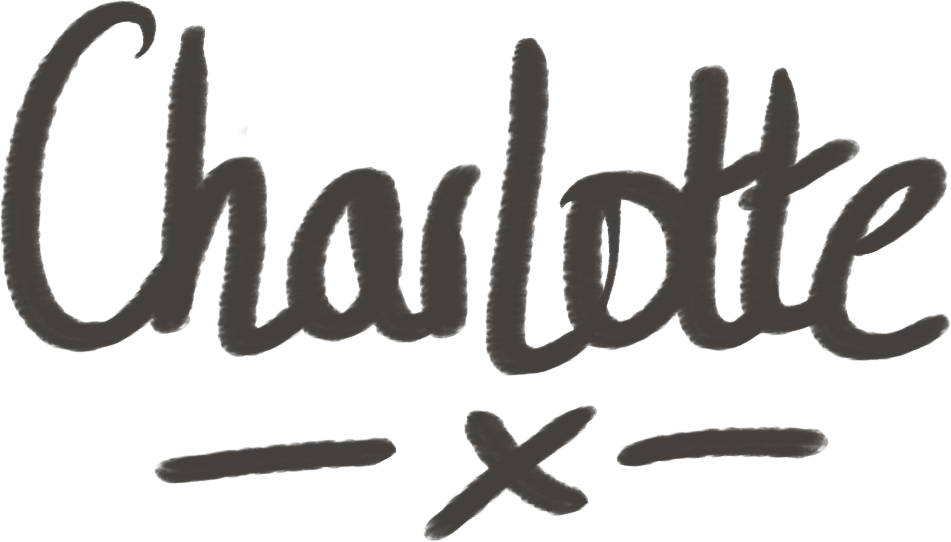 Charlotte Lawrence