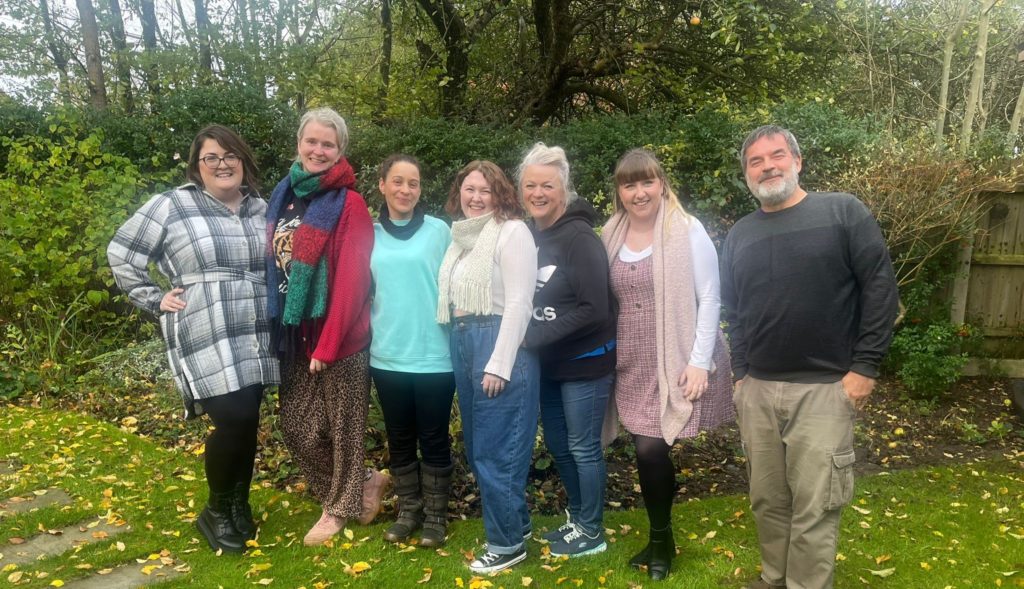 Contents
A word from The SUN Network's Executive Director
Hello and welcome to The SUN Network's winter newsletter. Wow! What a year it has been. There have been huge changes in the way healthcare is delivered, and the team is working hard to ensure that your voice is shaping and influencing decisions.
Part of how we do this is by helping people understand how important it is to all work together. Patients/service users, staff delivering services and funders paying for services.
This working together is called Co-production – meaning we all have an equal say whilst working towards a shared goal.
If you or any of your loved ones have needed mental health support locally, then you may be interested in co-production and working with services to make improvements. If so get in touch with us and we will support your involvement and help you have your say.
The SUN Network team have been really busy on numerous projects that will be shared in this newsletter, and I am really proud of all the hard work that the team have carried out with their usual positivity and enthusiasm.
I hope you enjoy hearing about our work as much as we enjoy carrying it out. And if it piques your interest, get in touch, and get involved.
– Lois Sidney
---
Creativity, Wellbeing and Recovery
Emma is the Creative Arts & Wellbeing Coach for Cambridgeshire Recovery Service (CRS). She is as friendly and kind as she is skilled, and she runs art sessions for anyone who wants to have a go. Here's more about what people have to say about Emma, her support and encouragement.
One service user said to me, "Emma helped me, almost like therapy, to enjoy the process and not worry so much about the end result. What I learn in painting helps me in life. I get absorbed in painting. We all need to be with other people and experience healthy relationships, community and I get that with CRS."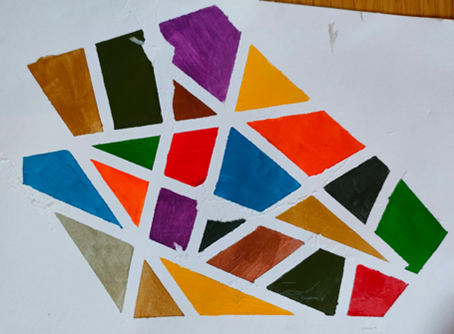 Creativity has been linked with addiction recovery. See Psychology Today article from 7 October 2017 for more information and seven specific ways creativity helps our wellbeing and recovery. 
 
One example is regulating emotions, one of the foundational skills defining addiction recovery: "Regulates emotions. Engaging in a creative activity can open a new channel for people to connect with their emotions. For example, studies show that listening to music can foster a healing environment and reduce stress. One study found that partaking in music, such as singing in a choir, reduced negative emotional states."
 
This article on Mind's website tells stories of people who improved their mental health through expressing their creativity: "I felt like I had finally found something that allowed me to express my pain in a way that made sense to me." "Completing a creative project or progressing with something on guitar contributes positively to my mental health. Not only does it act as a mood lifter, but it also provides me with a sense of accomplishment. This in return gives me the motivation and confidence towards acting in other facets of my life. By engaging in it, I am caring for myself by making room for something in my life that brings me happiness. Creativity has helped me through a lot of dark times and played a significant role in my mental health recovery."
KC has been along to CRS groups and seen the relaxed space and he's seen people thrive as they create something of their own. Anyone is welcomed to come and see for yourself at Free Flow Friday in Huntingdon on Fridays at St. Mary's Church Hall, Akeman Street Community Centres at 1pm on Wednesdays in Cambridge and March Recovery Café at the March Community Centre on Thursdays at 10am. No appointment is needed so if you are in Cambridgeshire you can turn up and meet the friendly people who will offer you a hot beverage.
---
Guest Feature
David is one The SUN Network's Non-Executive Directors and in this issue he is sharing his lived experience story.
Hi everyone, I'm David and I hope you enjoy reading my story.
In my younger years I had been one of those travelling types: I'd lived in Paris for two years and the USA for about 10 years. I was also fortunate enough to have had quite a successful career, and everything was fine, until it wasn't. Spanning over a couple of years, various catastrophic life changing events happened, and I went from a very comfortable middle class life to becoming homeless in a couple of years.
I was very lucky to get emergency housing in Huntingdonshire, but I was staying in the middle of nowhere with no car. My mental health unfortunately continued to deteriorate but I discovered The Sanctuary provided by CPSL Mind which helped me a lot. I was then housed in temporary accommodation and unfortunately things got worse. My mental health continued to worsen and I eventually ended up in hospital for 3 months. Once I got the treatment I needed it was like starting a new chapter of my life (in my late 40's!). After being discharged I found my forever home, engaged in counselling, and started volunteering.
I discovered The SUN Network and I've been heavily involved with them for the past 3 years, and I'm now a Non-Executive Director and sit on the board. I participate in lots of meetings with the NHS and the Local Authority, where we have worked on things such as the COVID strategy and the development of Mental Health services throughout the county.
The beating heart of The SUN Network is to get people who have used, are using or have tried to use mental health or addiction services involved in the service development – right from day one. This is called co-production. I have been involved in the group which has developed a very comprehensive document called The Co-production and Involvement Best Practice Guidance which is a gold-standard, go to document that describes what co-production is and how to effectively implement it within your organisation or participate in co-production if you are someone who has used or needed the services. We then went on to develop a training workshop (and this was co-produced of course!) which is being delivered to the NHS, Local Authority and voluntary sector organisations throughout Cambridgeshire and Peterborough. It's very rewarding!
The SUN Network (and other organisations) have helped me so much in my recovery, and I am now ready for my next challenge. I am enjoying my volunteering roles, and my social life, but I now feel ready to start full time work again, and I am looking forward to starting my next chapter.
---
What we've been hearing
We are very fortunate at The SUN Network that we get to hear from many different people, about their experiences of mental health and addiction services. We have included the most recent themes from our feedback in this newsletter, to share with you the reality of what individuals are experiencing. 
There needs to be more services in Fenland. Sadly, there aren't enough NHS funded services, nor are there enough charity or community services that reach these areas. People would like to see more groups and activities, especially as public transport does not cover Fenland well enough for people to travel elsewhere to access support
People are using more and more community services to help with their wellbeing and mental health. There are groups set up by local people which are peer led and safe spaces to visit for a chat and some company
Older adults are feeling disconnected from the health services that they need, this is because during the pandemic many services have moved online and have not changed back to face to face. We have also heard feedback that contact information supplied by services doesn't always include a phone number, which is causing distress to older adults
There has been feedback about the struggle older adults are facing when transitioning to care homes. Carers especially have explained the difficulty when trying to handle the process with the lack of information or support available, both financially and practically
Travellers, Gypsies, Roma, and ethnic minority groups need mental health services to engage within the community more. Providing a service similar to community health needs
An ongoing challenge is that those who are experiencing mental health challenges don't know where to start to look for help or are not given all the options available to them, so they start with the GP….. only to find they are unable to get an appointment
The cost of living crisis is having a huge effect on people's wellbeing with people struggling to look after their pets and making heat or eat choices
Those that are accessing services are reporting that they are very grateful for the help and support they are receiving
Waiting lists are long and people are often left with no communication so are not sure whether they are still on a waiting list or not
Jonathan Wells is our Chair of Directors, and also works at Rethink Carer's Support, he wanted to share what he has been hearing in his roles:
'I often hear similar things via Rethink Carer Support and us in The SUN Network. Lately a theme has been about mental health staff not being sure when to see someone in person and when they can just as well be seen online. We still hear of people with severe mental health conditions being offered assessments online which are simply not going to work. Secondly, I still hear a lot about people waiting for mental health services rather than actually getting the help they need. We have recently had some encouraging statements from Cambridgeshire and Peterborough NHS Trust (CPFT) about the support they do offer to people whilst they are waiting for all the treatments they need.'
---
What would you like to know?
If there is a specific area of mental health or addiction you would like us to look into for our next issue, then please let us know!
You can contact any member of the team via enquiries@sunnetwork.org.uk or via any of our social medias @SUNNetworkCambs, find us on Facebook, Twitter, Instagram or LinkedIn.
---
Who are we really?
Get to know The SUN Network Directors and Staff
Jonathan – Chair of Directors
"I am proud to be our chair. I am very keen on literature and enjoy reading and writing poetry."
David- Non- Executive Director
 "Hi everyone. My name is David, and I am a lived experience volunteer as well as being a Non-Executive Director of The SUN Network. I'm from Canterbury in Kent originally and have lived in Cambridgeshire for about 6 years. A fun fact about me is that I once bumped into Mystic Meg (literally!). She didn't see that coming😉."
Szara- Non-Executive Director 
"I am the founder of Shoosh No More, and a trained domestic abuse practitioner that supports survivors of domestic abuse. I deliver seminars on supporting victims of domestic abuse in the workplace and co-deliver The SUN Network coproduction training."
Lois- Executive Director 
"Mum, wife, psychodynamic counsellor, ex prison officer, footballer (Liverpool fan), animal lover, (Got dogs, cats, rabbits and fish, would love some chickens) gardener, book lover, adore nature, busy busy busy!!!!!"
Anne- Mental Health Engagement Facilitator
"Hi my name is Anne, I am the Mental Health Engagement Facilitator for The SUN Network. A fact you might not know about me is I went travelling on my own in 2008 to Thailand, Australia, New Zealand and India."
Rachel- Mental Health Co-Production  Facilitator
"Hello! I am Rachel. I am a mental health co-production facilitator at The SUN Network. I've been here since January this year and love the work that we all do here. Fun fact about me, is that I am currently doing an undergraduate degree so get very little time to do much outside of working and studying. However, I LOVE gardening and am very new to it but it takes up a lot of my summer weekends."
KC- Addiction Co-Production Facilitator 
"I enjoy jogging and sleeping (although I don't do as much of either these days). I used to pursue extreme endeavours like hang-gliding and motocross but now I surf for good TV shows and films, quietly making things with my hands and relaxing in the great outdoors.  Addiction recovery is my passion, and my family is my love."
Charlotte – Mental Health Engagement Facilitator
"I am a wife, a friend, a student in my third year at university, and a qualified ex beauty therapist (I much prefer getting treatments for myself), kickboxing student, auntie to my friends and family's children, card maker, evolving – I am always keen to learn about myself and develop my relationship with myself. I also experience my own mental health challenges and I am so much more.😊"
Natasha- Older Adult Mental Health Engagement Facilitator
"Hiya I'm Tash! When I'm not at work I'm often spending my time with my family- my husband, son, two cats and a rather special dog! My son has Severe Haemophilia A and is also Autistic, so life is always busy and interesting in our house. I often don't prioritise myself (which I'm working on) but when I can, I love sneaking off with a cuppa and a good book, or having a play around with makeup- this is my one and only creative outlet, as those who know me well know I am far from 'crafty'!"
V – Marketing and Content Creation Executive
"Auntie, small business owner, creative and loves arts and crafts, fashion enthusiast, DIY lover, cooking/baking, plant lover, gaming, coding, interior designing and loads more!"
---
Growth and Celebration
Charlotte and V co-created leaflets and website content for people who may be struggling with an eating disorder or caring for someone with an eating disorder, who want information on the local support available and some helpful tips and answers to frequently asked questions from people who have experienced it themselves. We co-produced this work alongside individuals and carers that have personal experiences of eating disorders. This was part of county wide improvements to the Adult Community Eating Disorder Services. (AEDS).
You can see the results of our work here, or by scanning this code with your camera:
This work has been recognised by NHS England as a best practise example of good co-production which is amazing. It really proves that brilliant results are achieved when we all work together equally. Other health authorities have approached us to use and adapt the information to suit the local support they offer, which means this work is being used across the country to help people with eating disorders.
Charlotte and V were asked to speak at the official launch event for the eating disorder service earlier this year. They invited individuals that were involved in creating the leaflets and website content to join, and some people joined online. Keith, who was one of the carers that was involved in working with us and pictured below, was able to join in person and shared some kind words about his experience working with us.

The services contributing to the overall improvements to eating disorder support in Cambridgeshire and Peterborough, were nominated and shortlisted from hundreds of applications in the category of 'Clinical Improvement for Mental Health' at the prestigious General Practice Awards, making us one of six finalists. We attended the awards ceremony in London recently and while we didn't win the award for our category, we were one of few nominees to receive a highly commended award. This wasn't given out in every category so shows the amazing work that has been done was worth recognising by the panel. This is an incredible achievement and something we are so proud of.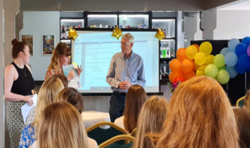 The group of individuals who were involved in this work made the following comments about their experience of working alongside The SUN Network:
"I think the real experience we have all had really shows through in all we have achieved. The roll out of the eating disorder information can't be soon enough – it needs to be BIG. Charlotte and V were brilliant. Hearing the real lived story, alongside quality materials is changing professionals' attitudes to co-production. They can see that it works for patients and parent/carers. Thank you again to everyone. This work really does make a difference. … the carers website… you had me in tears thinking about how different my life would have been with that resource being available. So many people are going to have easier journeys. A really serious from the bottom of my heart thank you."

"I have been working with Charlotte and V developing a leaflet and website. I have also taken part in a video. During the time we all worked together, I found both Charlotte and V very professional They were sympathetic to our journeys and no time did I ever feel judged. I felt they took all of our ideas on board, and if anything, we put forward could be used they used it. Sharing my experience with others was very liberating. If the time we spent developing these projects, helps just one person, every moment was worth it. Thank you, ladies."

"Charlotte and V shared some of their own lived experience with us from the start of the project, this felt like it created a special bond within the group and made it more comfortable for me to share my own experiences. I had known the importance of peer support before but never experienced it to this degree and had someone lead a project with lived experience."
---
Resources for Wellbeing
A few members of The SUN Network team are sharing what they do to help their wellbeing.
Anne one of our Adult Mental Health Engagement Facilitators is sharing how nature helps her wellbeing:
"There are many ways to help us feel better about ourselves and in this technological age there are numerous apps, forums and online resources that can help. But digital platforms are not for everyone, and if you are like me then seeking these out seems overwhelming. When I have attempted to engage with them, they are often short lived. So, what does work? For some it is art, crafts, music, friends. I love all these things and having them as part of my life helps my mental health and wellbeing but my absolute go to, which never fails me and where I can lose myself for hours, is nature and the outdoors.
When my mental health has been at its worst, even going outside the front door seemed impossible, but I would force myself to go for a walk. I remember having to say to myself in my head at the beginning of the walk – you are fine, you can do this, you will be ok, and I put one foot in front of the other.
As I started to relax, let go and gave focus to the things around me such as the flowers in peoples' gardens, feeling the breeze on my skin and watching the trees sway, I realised the words in my head had faded and I began to feel a little better. By the time I got home the unsettledness, intensity and overwhelming thoughts I had before I left had completely changed. Even when you think you can't do something, do it. You never know, it might help."
Kim who completed over two years as a Non-Executive Director for The SUN Network is sharing what she does for her wellbeing:
"I've been lucky enough to have the time to experiment with my creativity and I really do believe it works well as a distraction and has seen me through some tough times. It's now so engraved into my life that I couldn't imagine my days without a crochet hook/ needle/ pencil in my hand keeping me inspired and focussed.
When I'm at a low point I find it hard to communicate through speech but just because I can't speak doesn't mean I do not have things I want to say. I have used crochet for years as my way of communication through yarn bombing, and over lockdown I started to sew positive words into my yarn bombs to try and lift the community.
Continuing with this idea, I've recently been sharing fun quotes through embroidery. With embroidery I've found the repetitive motion of pulling the needle and thread through the fabric gives me a feeling that I could compare to the sleepy safety a child has, snug in its parent's arms as it's rocked backwards and forwards. The medical term for this is called being in the zone, I get this zoned out feeling when I crochet too.
Can you relate to being in the zone? What do you do to help with your wellbeing?"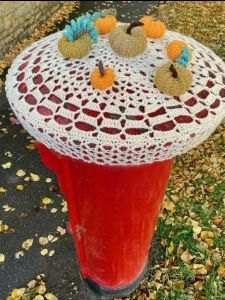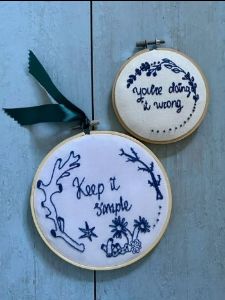 Rachel our Adult Mental Health Co-Production Facilitator shares what she does to help with her wellbeing:
"At university I have been learning emotional regulation techniques. One of them is called behavioural activation. It basically means that you do something that you enjoy or gives you a sense of achievement and this can help to lift your mood if you are feeling low, or even if you're not and just want to increase your mood. I was having a bad day the other day, so I went for a nice long walk in the autumn sun whilst listening to a podcast. I walked by the river where I live, and emersed myself in the nature and it lifted my mood so much. Being outside in the fresh air and noticing all the changes around me made me feel so energised and uplifted afterwards. I have always been one of these people that thinks I don't have time for stuff like that, but it can be a preventative measure to declining mental health or a really bad day. It's important to take the time to do small things for yourself – you deserve it! 😊".
---
Events
In July, it was National Co-Production Week. At The SUN Network, we love all things co-production, so to celebrate, we took ourselves on a roadshow around Cambridgeshire and Peterborough to showcase the invaluable things that can happen when something is co-produced.
We went from People and Animals in Wisbech, to Hinchingbrooke hospital to The Recovery Service in Cambridge and everywhere in between. The team, including our work experience student – Charlotte and some wonderful individuals with lived experience that work with us, took a collection of information to explain what co-production is and how it works in the system of mental health and drug and alcohol services. We spoke to many different people to educate and raise awareness of what co-production is and how it can benefit a service. We gave away goody bags of The SUN Network merchandise (including sweets), stickers and provided the opportunity for people to have their say on our 'What does your Ideal Service look like board'.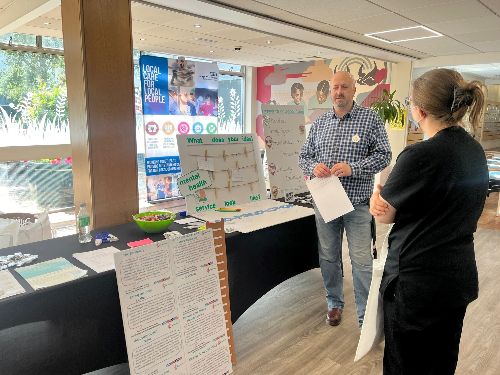 In August we had a co-production celebration event at The Maple Centre in Huntingdon. This was a lovely way for us to reflect on the roadshow and share with everyone the highlights of the week. It's always the best part of our job to go out and meet people and for them to share in our work. So, we really welcomed the chance to do that in      co-production week.
We are hosting a Craft4Smiles crafting event in February that will be centred around Valentines Day which includes self-love. Watch this space and keep an eye on our socials for more info. (@sunnetworkcambs).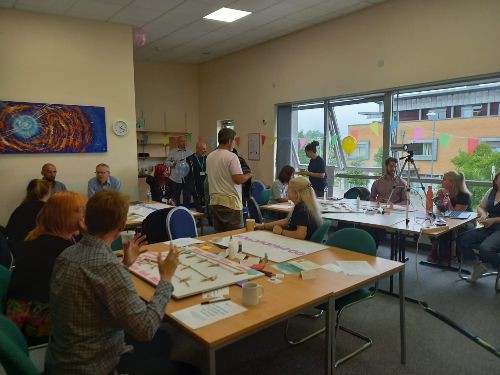 ---
Parallel Perspectives
We asked people, with different personal and professional experiences of support services locally, to answer the same question: What does co-production mean to you? Here are their responses:

Lived experience as a carer: "For me, co-production means that my caring role is valued as being part of the solution, not part of the problem. It means that I feel trusted and, as a consequence, more motivated to play my part. It also means that I feel respected, which makes me feel more confident about expressing my ideas. Carers know and understand their loved one in a way that the professionals can't. The best treatment brings together the patient, carer and professional – if one of these is missing, outcomes are never as good as they could be. Above all, co-production means better designed and more effective services because the carer's unique perspective and ideas are fully captured."

Drug and alcohol commissioner: "Our local users of services are lived experience experts and as such we work together to design, evaluate, and deliver local services. As a commissioner, adopting co- production principles has enabled us to build trust and mutual respect, realign the balance of power, working collaboratively to make positive changes and improvements to local services. We have met some really fabulous, amazing individuals on our journey."

Service co-production lead: "Co-production is about recognising people as assets and building on people's capabilities, it is the inception, planning, production, and delivery of services by those with lived experience, carers staff and other stakeholders, it is essential that lived experience and the skills of all parties are included and valued, this process helps make services more sustainable, meaningful and cost effective."
Individual with lived experience: "Working together, being professional as well as understanding everyone's journeys. Ideas are being taken on board and anything we say can and does get used. Sharing my experience with others was very liberating. If the time we spend developing co-produced projects helps just one person, every moment of it is worth it".
What should our next question be? Let us know by emailing Natasha.davis@sunnetwork.org.uk.
---
Big Thank You
A big thank you to everyone that has shared their story with The SUN Network through providing feedback, participating in co-production, or getting involved in any of our work. Without your honesty and courage to speak about your mental health or addiction journey, we couldn't do the job we do to help influence service change. We are always so privileged to be trusted by you. Thank you!
If you know of an organisation, or an individual who is championing co-production please let us know, and we could feature them in our next issue!
---
The SUN Network team gathered together for their annual Christmas meal, it was wonderful to spend time with each other outside the office.
Over the festive period we will be sharing support via our social media channels.